Theresa May has delivered her much-anticipated speech on how Britain plans to negotiate leaving the EU, rejecting what she referred to as a "half-in, half-out" Brexit. In what was seen as her most important moment since becoming prime minister last year, on Tuesday (17 January 2017) May delivered her 12 key negotiation points, including promising to fully leaver the single market as well as building what she called a "fairer Britain".
Here are the key points from what could be one of the defining moments for May and Britain as a whole.
Vote in Parliament
May confirmed that that the government would put the final deal that is agreed between the UK and the EU to a vote in both houses of parliament before it comes into force.
This decision arrives as judges are still to decide if MPs should be able to vote on whether Article 50 – the triggering of the formal process of leaving the EU – can be triggered on March 2018 without their approval following an appeal.
End of single-market membership
May said she hopes that Britain would remain a "great global trading nation", but added that the Brexit vote must mean the country no longer has membership to the single market.
Instead, the UK would attempt to have the "greatest possible access" to the single market with "bold and ambitious" free-trade agreements with its current members that contain elements of current arrangements.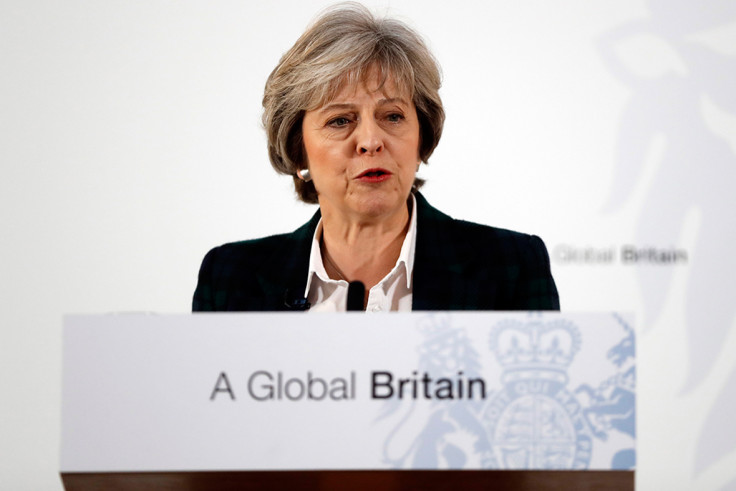 End to 'huge sums of payments to EU'
While there has been some debate about how the UK could spend a certain £350m a year, May promised that Brexit and leaving the single market would mean that the UK would "not be required to contribute huge sums to the EU budget".
However, May said there may be some "specific European programmes" that the UK might want to participate in that we may make what she called an "appropriate contribution to".
'No deal better than bad deal'
The PM appeared to suggest she would be willing to walk away from any negotiations if there was the suggestion of a "punitive" Brexit deal from the EU in order to discourage other countries from taking a similar path. "That would be an act of calamitous self-harm for the countries of Europe and it would not be the act of a friend," she added.
Maintain Ire/Nire common travel area
May said the UK would still share a land border with the EU between Northern Ireland and the Republic of Ireland, but promised there would be "no return of the borders of the past".
She said maintaining the common travel area between the two countries would be an "important priority" in their negotiations – noting that the travel area was formed before either country became members of the EU.
Britain to remain 'open and tolerant'
May accepted that Brexit means that the UK must control the number of people migrating from Europe, but gave assurances that the UK would always want immigration, especially "high-skilled immigration" and that "we would always welcome individual migrants as friends".
No step-by step-updates
In what has been a recurring soundbite for May, she said the government would only reveal is what "is in our national interest to say" during the negotiations. She added: "It is not my job to fill column inches with daily updates, but to get the right deal for Britain. And that is what I intend to do."
May's 12-point Brexit plan
Government will provide certainty and clarity to politicians and businesses.
UK will 'control our own laws' by quitting the European Court of Justice.
May will strengthen the 'precious union' between England, Wales, Northern Ireland and Scotland.
There will be no hard border between Northern Ireland and the Republic of Ireland.
UK will 'control' EU immigration, while recruiting the 'brightest and the best' from around the world.
Government will seek a reciprocal residency rights deal for EU and UK workers 'as soon as possible'.
May has promised to protect workers' rights.
Ministers will seek a 'bold' and 'comprehensive' free trade agreement with the EU.
UK will seek a customs agreement so that it can broker its own trade deals with non-EU nations.
May will keep European science and innovation ties in bid to keep the UK a 'world leader'.
UK will continue to work with the EU in bid a bid to combat the threat of terrorism.
Ministers will seek to avoid a 'cliff edge' and seek a smooth split from the EU.