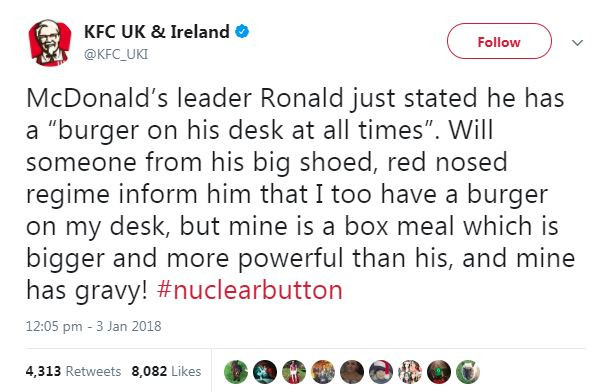 Donald Trump's Twitter tirades have become something of a regular occurrence, but his recent nuclear threats aimed at Kim Jong-un were met by many with unease and a resigned shrug.
Anyone who has payed attention will know this isn't the first time Donald Trump has singled the North Korean leader for abuse, having previously taking a swipe at the so-called 'rocket man' last year.
Now it seems there are two other global giants at social media loggerheads: Colonel Sanders and Ronald McDonald.
The KFC Ireland and UK account tweeted this from their account today (January 3): "McDonald's leader Ronald just stated he has a "burger on his desk at all times". Will someone from his big shoed, red nosed regime inform him that I too have a burger on my desk, but mine is a box meal which is bigger and more powerful than his, and mine has gravy! #nuclearbutton."
KFC's #nuclearbutton tweet is a clear reference to Donald Trump's taunt of the North Korean leader.
So far the tweet has been shared over three thousand times by amused Twitter users. Here is some of the reaction:
Not everyone was entirely impressed by the strained joke analogy.
As of yet, McDonald's has not responded with their own riposte, but surely they have to hit back?
This isn't the first time KFC's social media team has come to the attentions of the wider public. The fast-food company drew plaudits after it was revealed that the account followed only five people: Victoria Beckham, Geri Horner (nee Halliwell), Emma Bunton, Melanie Chisholm and Melanie Brown – along with six men named "Herb."
The inside joke was a reference to KFC's famous secret which includes 11 herbs and spices. Well played.