KFC is continuing its trend of offering strange consumer products to its customers and has unveiled a $10,000 (£7,500) "Internet Escape Pod".
The small dome, which can house about four people while they presumably eat KFC, will block cellular and Wi-Fi signals. And while the price tag seems expensive, KFC revealed on its ordering page the original price was (specifically) $96,485.34 (£72,693.06). Ironically, the "cheaper price" is part of a Cyber Monday deal.
If you are happy with the price and the premise of the Internet escape Pod, there may be one more hurdle before buying. The semi-futuristic grey dome has Colonel Sanders sprawled over the top with his limbs stretching to each corner.
"Find sanctuary for yourself and your loved ones under Colonel Sanders and his Internet Escape Pod," the ad reads. "So this Cyber Monday (or really anytime you want; I mean you bought it, so it's up to you), let Colonel Sanders' protective embrace take you back to a simpler time."
Despite being marketed to block the internet, there are no guarantees the contraption will work. "In case you haven't noticed, our speciality is fried chicken, not internet blocking cages," the ad says. "Although we have done our best to ensure total internet escape, a special person with a gizmo has to test our cage before we can claim total and utter signal impenetrability. Upon installation, every effort will be taken to ensure it full blocks your device. You have the Colonel's word."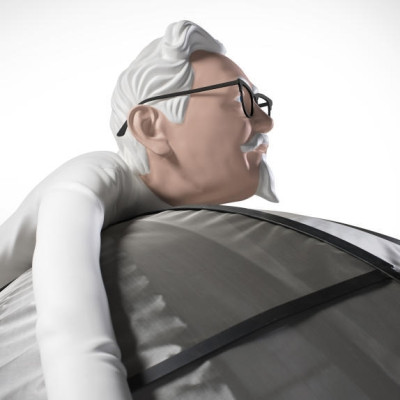 Earlier in November, KFC announced a bath bomb that can make you smell like the take-away's famous chicken. The promotion is underway in Japan and will give 100 twitter users the limited edition "soaps". To produce the drumstick-shaped bath bombs, the fast food chain has teamed up with Japanese retailer Village Vanguard, who have previously created soup-scented baths.