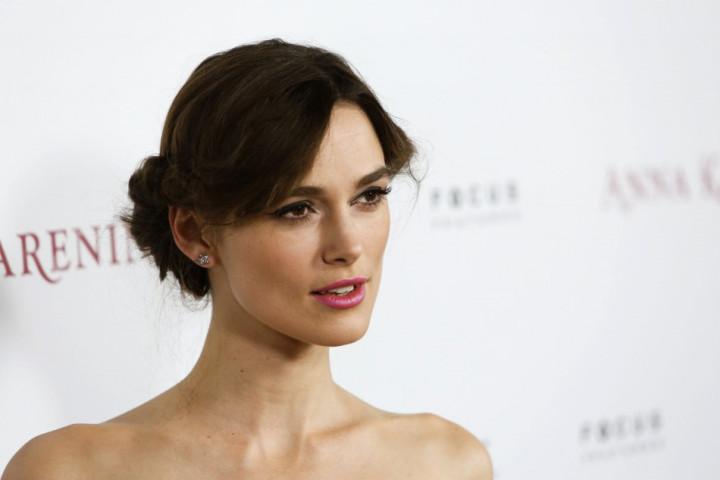 She previously complained about her cleavage being digitally enhanced for a King Arthur film poster and now Keira Knightley is flying the flag for small-breasted women everywhere.
The notoriously conservative star has thrown caution to the wind and posed topless for a fashion magazine.
The Pride & Prejudice beauty smoulders in the artistic shots captured by renowned fashion photographer Patrick Demarchelier. She is nude from the waist up with just a pair of dark trousers and long lace gloves, completing the look with wet hair.
Although her breasts are undeniably small, Knightley looks far from masculine in the black-and-white images.
While some critics have slated the surprise move as an attempt to claw back media attention and compete with her rivals, others have branded it a victory for women with smaller chests.
Taking a stand
"The first thought that entered my head was HUR-RAH. Finally, somebody not afraid to stand up and bare their small breasts," the Telegraph's Claire Cohen says of the striking editorial.
Cohen goes on: "She's throwing out ideas of what the naked female form should, or shouldn't, look like, taking control of her own image and saying: ''This is me". And we fellow flatties salute her for it."
Cohen also insists that suggesting Knightley's decision to bare all is a PR exercise in hyper-sexualisation would be an insult to the women she has liberated.
"Anyone calling these shots 'sexy' is horribly, horribly misguided. To me, it's clear that Keira hasn't got her tits out for the purpose of male titillation.
"Powerful, yes. Strong, yes. Feminist, absolutely. X-rated? Not even close"
On the big screen Knightley is no shrinking violent when it comes to her body, having bared her breasts in a number of movies including The Edge Of Love, Silk, Atonement and Domino.
"I don't mind exposing my tits because they're so small - people really aren't that interested. It's much easier as you get older. You can say, 'No', 'Yes', 'No'," she said back in 2012.
But whether she is really trying to challenge stereotypes of what beauty and the female form should look like, or simply flipping the bird to her critics, she has definitely started a very interesting conversation.