The Turkish president, Recep Tayyip Erdoğan, has succeeded in a referendum that will grant him sweeping new powers.
With around 99% of ballots counted, 51.3% votes "Yes" and 48.9% voted "No" to replace the parliamentary system with an executive system. The "Yes" campaign won 1.25m more votes than the "No" campaign, with only about 600,000 votes still to be counted.
Erdogan said: "Turkey has taken a historic decision. With the people, we have realised the most important reform in our history."
Erdogan's supporters thronged the big cities, believing that replacing the parliamentary system with an executive presidency will modernise the country although the country's main opposition parties will challenge the results.
The Republican People's Party (CHP) demanded a recount of 60% of votes and dispute whether unstamped ballot papers should be considered valid. Meanwhile, the opposition Peoples' Democratic Party said on its Twitter account: "Our data indicates a manipulation in the range of 3 to 4%."
Sunday (16 April) saw multiple deaths reported after violence erupted at polls across the country. Reports claim at least two people died after fighting broke out outside a polling station.
Turkey's state-run news agency, Anadolu, said two people were killed in a gunfight outside a polling station in the southeastern province of Diyarbakir.
Erdoğan and his supporters argue the new system is necessary to secure the nation as it continues to battle the Kurdistan Workers' Party (PKK) and would bring stability and prosperity. However, opponents say victory for Erdoğan would place much power in his hands and could see him govern until 2029.
Other changes that would come into force would allow Erdoğan to pick five of the 13 supreme court members and permit him to be a member of a political party.
The hardline leader was Turkey's first ever directly elected president in 2014 after serving 11 years as prime minister. He survived an attempted coup last year after which he placed the country under a state of emergency. Since then he has clamped down on dissident voices by arresting tens of thousands of people and sacking or suspending as many from their jobs.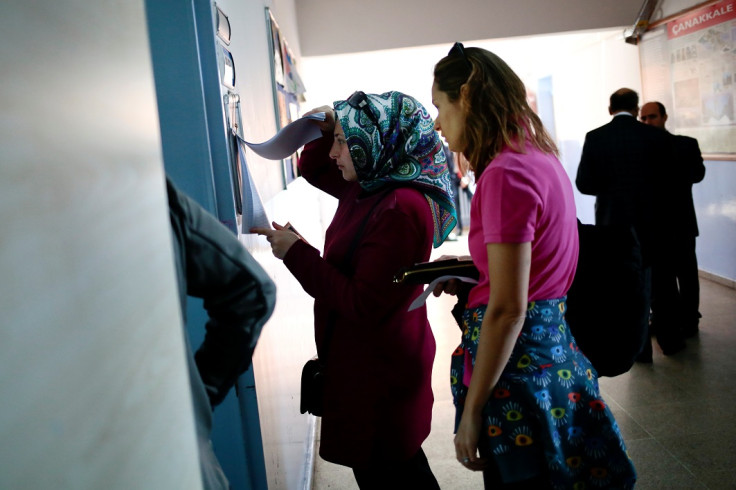 At least eight people wanted by authorities for their alleged links to outlawed groups were arrested at polling stations.
Anadolu news agency said the suspects were detained in the cities of Adana, Malatya and Trabzon by police who were waiting at polling stations for them to cast their votes.
At least five the individuals were detained for alleged links to the Kurdistan Workers' Party, or PKK, the agency said, while three others were wanted for ties to a movement led by US-based Muslim cleric Fethullah Gülen, which Turkey accuses of carrying out the failed military coup.