The world can barely handle the power of one Kim Kardashian, but it appears the reality star and entrepreneur has competition as Toronto-based fashion blogger Kamïlla Õsman (above image) has taken Instagram by storm with her startlingly similar appearance to the real Ms Kardashian, pouting, contouring and bodycon all included.
Õsman has an uncanny likeness to the 35-year-old star and mother-of-two with the same hour glass figure, flawless skin and long dark hair, and the internet cannot get enough of her. Despite only joining Instagram just over three months ago, the Canadian blogger and designer has amassed over 70,000 followers and receives thousands of likes for each post.
Of course this is no match for the real Kim's 55 million followers but the world has certainly noticed the similarities between the pair with thousands leaving messages on her profile images calling her Kim's twin sister.
The two women have the same taste in clothing with Kamïlla sharing Kim's love for neutral palettes and skin-tight designs, many of her Instagram shots see her posing in Kim-like midi skirts with crop tops. The laid-back looks shot in the same style with dark hoodies and tousled hair are where it becomes extremely difficult to tell them apart. This is heightened by the fact that the two women have also mastered the art of contouring, flawless skin and impeccable cat eyes suggesting Ms Õsman is clearly a proficient make-up artist as well as fashion blogger.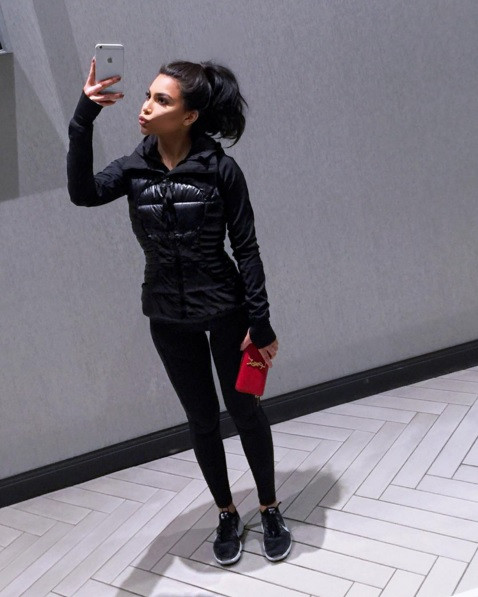 Whilst people have mostly been positive or simply surprised at her appearance others have questioned Õsman's motives for wanting to replicate the 'Keeping up with the Kardashians' star's style as well as suggesting that the Canadian has had plastic surgery to achieve this look.

Regardless of her motives, it does seem that beauty products, clothing and a little posing practice have allowed her to mimic Kim's style and the laid-back selfies with minimal make-up do show the similarities that naturally appear between the two. Kim Kardashian has also faced speculation over the years regarding plastic surgery in any case, so any criticism may just encourage more comparisons between the two.