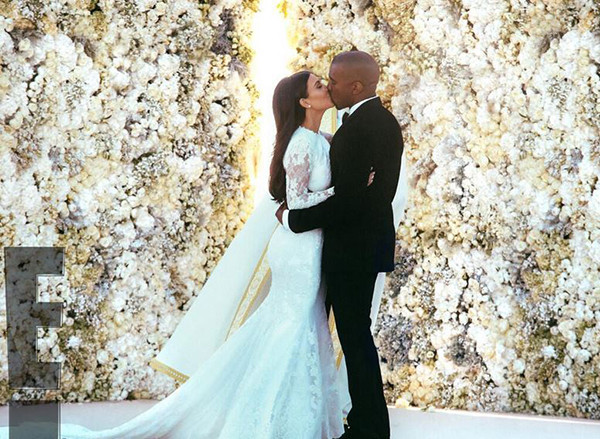 When Kim Kardashian celebrated her union to rapper Kanye West with a kiss in front of a wall of roses, neither of them had any idea that the picture-perfect moment would go on to make Instagram history.
Just as Helen of Troy's face launched a thousand ships, the celebrity couple' wedding kiss on a cliff top at Forte di Belvedere in Florence, Italy, has launched almost 2 million 'likes' on the photo-sharing site.
The snap, which is now one for the record books, shows the pair locked in a tender embrace with their eyes closed.
Serial bride Kardashian looks stunning in a custom-made gown designed by Riccardo Tisci for Givenchy Haute Couture, while the rapper groom went for a sleek black and white tuxedo.
"Very beautiful Kim congratulations." one fan said.
Another wrote: "Congratulations to the King and Queen."
A third commentator added: "Perfect couple"
Another image, which shows the reality star smiling at guests as she walks down the aisle with her new husband, also received more than 1.5 million likes.
The newlyweds have dethroned previous Instagram king Justin Bieber, whose photo of himself being hugged from behind by ex-girlfriend Selena Gomez has earned 1.82 million "likes" since it was posted in January.