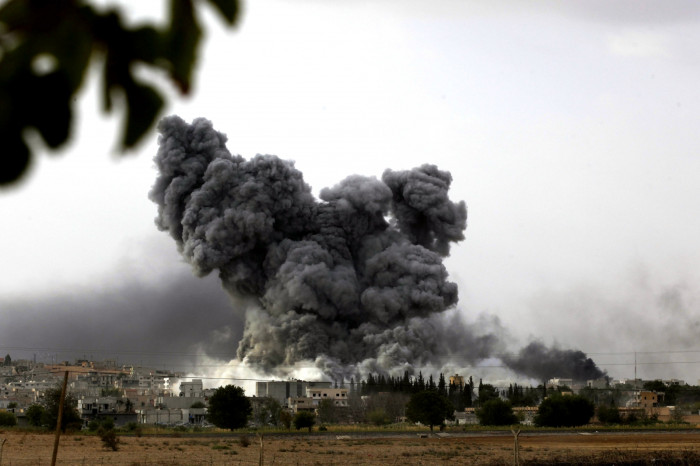 At least 31 militants belonging to Isis - also known as Islamic State - are thought to have been killed in ferocious US-led air strikes near Kobane, Syria.
The Syrian Observatory for Human Rights (SOHR), based in the UK, says seven Kurdish fighters and two civilians also died.
Ferocious fighting for control of Kobane - also known as Kobani, or Ayn al-Arab - has raged for three months. The town has become a symbol of resistance against Isis, but at least 700 Kurdish fighters are thought to have died since the commencement of hostilities.
Isis is attempting to impose an Islamic Caliphate on Iraq and Syria and Kobane is vital because of its location on Turkey's border, but resistance from local Kurds and Peshmerga from Iraq has been much tougher than anticipated and coalition air-strikes have had a major impact. Now observers believe Kurds have the upper hand in the town.
Rami Abdurrahman, director of the SOHR, says 80% of Kobane has now been retaken "due to the continual attrition of Islamic State, especially during the last seven weeks after IS have failed to advance in the city."
"From the middle of November ISIS have tried to advance and they have been stopped," says Abdurrahman. "Before then, ISIS controlled about 60% of the city, now they have less than 20%."
Coalition air-strikes are also attempting to disrupt Isis fuel-smuggling activities which provide funding for the group. Isis has control of oil production across swathes of Iraq and sells the fuel below the market rate. Airstrikes have targeted pipelines, collection depots and tankers.
The SOHR believes Isis within Kobane are becoming increasingly isolated and many have abandoned their positions.
"Hopefully within days the (YPG) units will be in control of the whole city," said Kobane official Idriss Nassan. "The advance has become faster and the air strikes are more intense."
Turkey has faced fierce criticism for apparently allowing Isis fighters to cross its border into Syria and for doing little to help the Kurds. Turkey has allowed Iraqi Kurds to cross its border to help their Syrian counterparts but Isis have also used the border to launch attacks and former Isis fighters have claimed Turkey has actually co-operated with the group.