Korean pear juice before alcohol could prevent hangovers by reducing blood acetaldehyde levels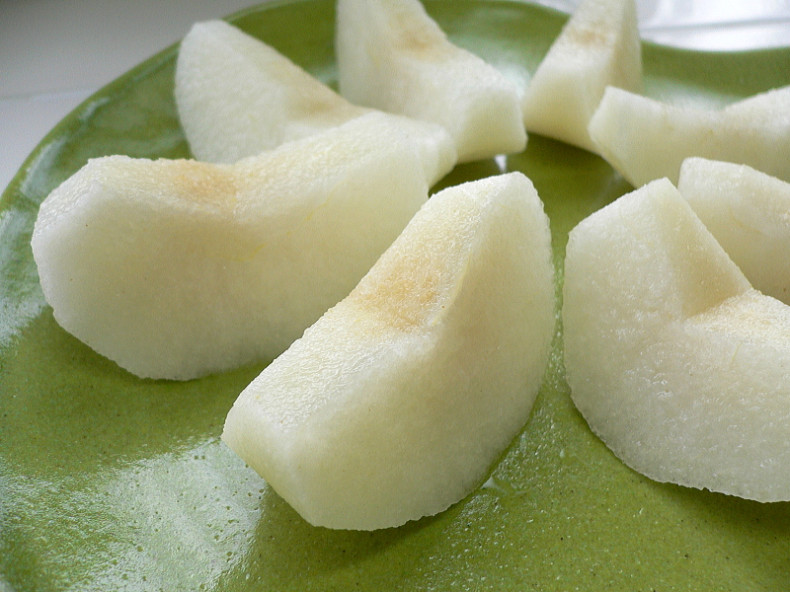 Pear juice – or more specifically Korean/Asian pear juice – consumed before a boozing session, appears to prevent hangovers, scientists have said. According to researchers from Australia's CSIRO, pears have a lot of hidden benefits, from lowering cholesterol, relieving constipation and having anti-inflammatory effects. However, they also found they can prevent hangovers and lower blood alcohol levels.
Professor Manny Noakes, lead researcher on the pear project, said that while the best hangover prevention method is just not to drink in the first place, pears appear to have special powers when it comes to the body's reaction to alcohol.
Noakes said the hangover prevention effects were seen after consuming 220ml of Korean pear juice before drinking – it would not work after you have had your first beer. Also, they only investigated Korean (or Asian) pears, so juicing up a load of European pears may not help.
"A number of compositional differences have been noted between the Korean pear and Western pear varieties, so further studies are needed to confirm these findings to determine whether these results could be replicated using other pear varieties," Noakes said. "So far the effect has been seen from consuming 220ml Korean pear juice, although consumption of whole pears may produce a similar effect."
Noakes said they do not know exactly why pears prevent hangovers, and that several different mechanisms might be involved: "Our review has uncovered both animal and human studies trying to answer this question. It appears that the factors in Korean pears act on the key enzymes involved in alcohol metabolism, alcohol dehydrogenase (ADH) and aldehyde dehydrogenase (ALDH) to speed up alcohol metabolism and elimination or inhibition of alcohol absorption. In particular, reductions were seen in blood acetaldehyde levels, the toxic metabolic thought to be responsible for the hangover symptoms, with pear juice consumption."
Specifically, she said that on a 14 item hangover symptom scale (that is a thing), the group that drank Korean pear juice were significantly less jaded than those who had a placebo drink. The most pronounced effect was on the 'trouble concentrating' symptom. Noakes warned this was a preliminary study, so results have not been finalised, and they hope to have a comprehensive review of pear juice in the near future.