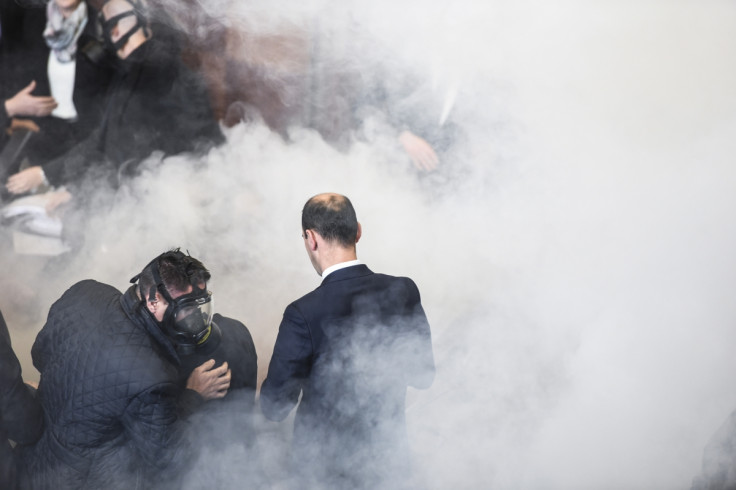 Opposition MPs have released tear gas in Kosovo's parliament for the sixth time in little over two months in an attempt to sabotage a vote on the government's 2016 budget. Despite the fracas, MPs still voted on next year's €1.67bn (£1.1bn, $1.67bn) budget, with only members from the governing coalition present.
The motion was unanimously approved while opposition supporters raged outside. They launched petrol bombs, smashed windows and threw bottles filled with red paint at the parliament building in the capital Pristina.
Protestors are opposed to an EU-brokered deal which could bring more autonomy to Kosovo's ethnic Serb minority, but many fear this may increase Serbia's influence in the country. Kosovo declared its independence from Serbia in 2008 and the nation has a mainly Albanian ethnic heritage.
The first instance of tear gas being used in the parliament was on 8 October, causing two MPs to faint. Since then the tactic has been used a further five times during key meetings, including votes on the Serbian deal, opposition leader Albin Kurti was blamed for one instance and his home was searched.
Glauk Konjufca, was one of the MPs that released the gas, he told the BBC that this was "a collective action by the opposition". He said: "Others have done this too, and we will continue to do this in the future. Our breaching of the law is nothing compared to the damage that is being done by these agreements."
Plainclothes police used gas masks to disperse the crowd inside the parliament room. US Secretary of State John Kerry, expressed his displeasure at the ongoing protests on a visit to Kosovo earlier this month, saying it was "not the place for tear gas and not the place for intimidation".
After the Balkan wars of the 90's Kosovo broke away from neighbouring-Serbia in 1999, aided by 11 weeks of Nato bombing intending to stop the killing and expulsion of ethnic Albanian civilians by Serbian forces. The nation has been recognised by more than 100 countries, but this does not include Serbia or Russia.