Hilary Benn: UN approval should not stop UK using military force to end atrocities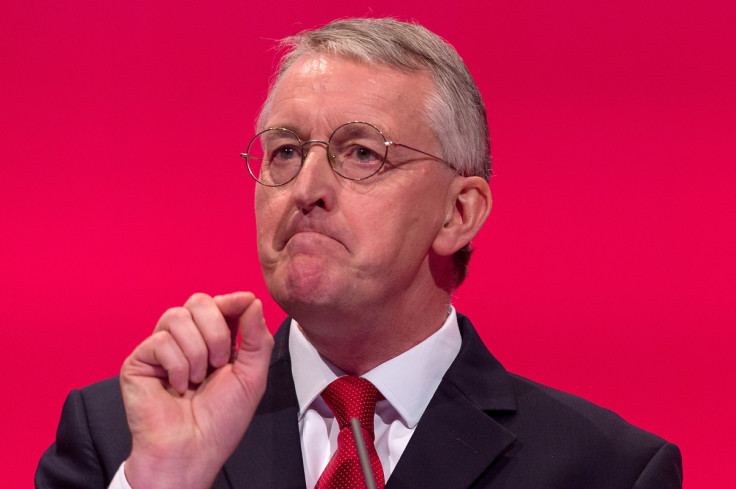 Labour grandee Hilary Benn has restated the case for liberal intervention as the debate continues around deploying British military forces to Syria, while his own party faces a split over its defence policy. The shadow foreign secretary argued approval from the UN Security Council was not always needed to justify an intervention in a speech in Coventry on 11 November.
Benn, who has publicly disagreed with his anti-war leader Jeremy Corbyn about the Trident nuclear deterrent and the role of Nato, cited the UK's involvement in Sierra Leone's civil war and Kosovo as examples of where atrocities have been stopped.
"What recent history teaches us is that whether it was Sierra Leone under the RUF and the West Side Boys, the Rwandan genocide, Kosovo when Muslims were being murdered in Europe's backyard or Syria today, the world needs to find a way of dealing with crimes against humanity," he said.
Benn later added: "But what if the UN will not or cannot act - then what? Is that an argument for standing on one side? Not in all cases some would argue, including me, as our support for intervention in Sierra Leone and Kosovo demonstrated. Others, however, take the view that in the absence of a UN mandate there can be no legitimacy for any action."
Review into Labour's defence policy
The comments, at the RISING 15 international peace symposium, come as Labour's shadow defence secretary continues to conduct a major review into the party's defence policy. Corbyn, a vice-president of the Campaign for Nuclear Disarmament (CND), asked Maria Eagle to carry out the exercise amid disagreements over military policy at the top of Labour.
The speech also follows as Scottish Labour's vote to refuse to renew Trident, which represented a personal victory for Corbyn on the issue but drew contradictions between the party's policy in Westminster and Holyrood. Elsewhere, David Cameron's administration has repeatedly suggested it is favour of bombing Islamic militants in Syria.
But the prime minister has so far not tabled a vote in the House of Commons after he was defeated in 2013 in the chamber over a proposal to bomb Bashar al-Assad and his government forces. The foreign secretary indicated on 8 November that the government would table a vote when "we're confident that there's a consensus".
"When we think that it's right to do so and when we're confident that there's a consensus in the House of Commons, we will go to the House of Commons and hold a debate and vote," Philip Hammond told the BBC's Andrew Marr show.
"We need to understand where the Labour Party is on this. At the moment, even its leader doesn't always agree with its policies, so there's a sort of exploration process here of understanding whether a majority of Labour MPs would in fact back this action."
Meanwhile, Egyptian authorities have launched a probe into the alleged bombing of an airliner travelling from the African state to Russia on 31 October. The incident left 224 people dead and has been linked to Islamic State (Isis).
© Copyright IBTimes 2023. All rights reserved.