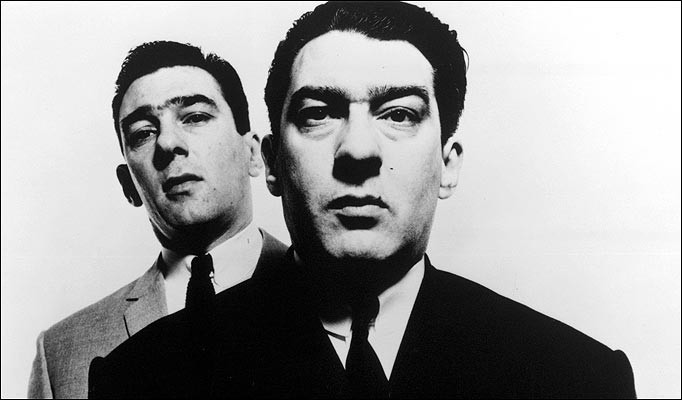 A plethora of Kray twins memorabilia will be going on sale at an auction house in Hertfordshire.
The letters and paintings which were collected by close friend Laurie O'Leary who grew up next door to Ronnie and Reggie Kray.
Toby Service, of Brightwells auctioneers, told the BBC: "There are lots of letters that give an insight into what they were thinking when they were in prison."
Also listed are photographs of the gangsters and signed pictures of celebrities who became friendly with them.
In one of the letters to a friend, Reggie wrote from prison: "Don't worry about me, I'm fit and strong...I am relaxed as one can be in prison....Don't look back...regrets - we all have regrets - be positive..." also attached is a picture of a cowboy sketched by Reggie himself.
One of the paintings, an oil painting of a cottage by a pond, comes accompanied by a handwritten letter by Ronnie, who struggled with handwriting, spelling and grammar.
It reads: "Thank you for comeing to see us. It was a very nice viset, and how good it was not to talk about crime. Please give our best wishes to Alf and Marc [Bolan] and would you tell Marc that I will do him a painting. He will have it soon... In October we have done 5 and a half years. God Bless from Ron."
Brightwells is hoping that the items collectively will fetch between £15,000 and £20,000 as the Kray twins, to this day, continue to have a cult following.
The Krays were jailed for life in 1969 for the murders of underground figures Jack "the Hat" McVitie and George Cornell.
Ronnie Kray died at the age of 61 after a heart attack and Reggie died five years later from cancer after being given compassionate leave following his diagnosis of bladder cancer.