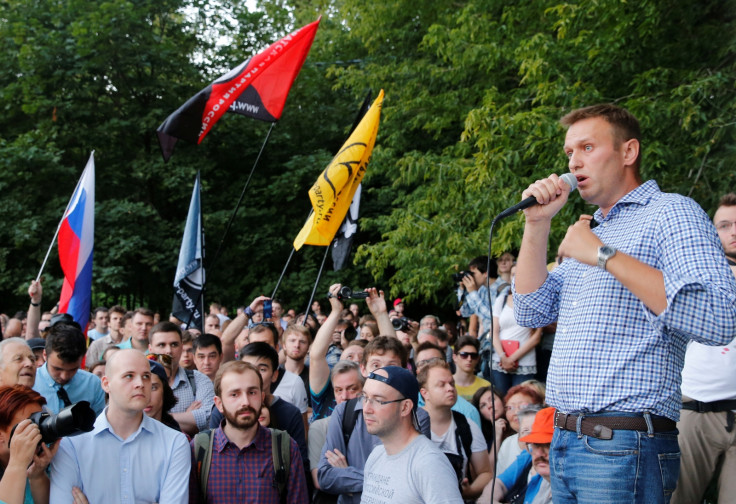 Alexei Navalny says he has the right to take on Vladimir Putin in the next Russian presidential election after the Kremlin critic's embezzlement charges were overturned by the country's Supreme Court.
Navalny was convicted in 2013 by a court in the city of Kirov and sentenced to five years in prison for embezzling timber worth $500,000 in a trial he claimed was politically motivated.
Navalny led anti-government protests that erupted after December 2011 parliamentary elections which had been marred by claims of fraud.
The European Court of Human Rights ruled that Navalny's right to a fair trial was violated but the conviction meant he was barred from standing in an election or holding office until 2033.
In a video statement on his website, Navalny said he can take part in the presidential ballot, scheduled for 2018 in which Putin is expected to run because he would not longer be barred under rules stopping those convicted of serious crimes from running for office.
"I no longer have a criminal conviction and once again I have the right to take part in the elections. I can't say I am happy with the ruling since in actual fact the Supreme Court had to dismiss the case for the absence of a crime, only such a ruling would be truly legitimate."
He said that still gives the Kremlin the ability to "deprive me of my electoral rights" but he issued a call to action to his supporters.
"We will work for our goals and the truth is on our side. This is our country and we shouldn't just hand it over to the corrupt judges, bandits from the Prosecutor's Office and those swindlers that currently occupy the Kremlin."
After his conviction in 2013, Navalny got more than 27% of the vote in a race for Moscow mayor, more than any other opposition candidate.
He says the criminal cases opened against him by Russian investigators are to designed to stop his political aspirations. These include a conviction with his brother in 2014 on charges of defrauding a Russian subsidiary of cosmetic company Yves Rocher.