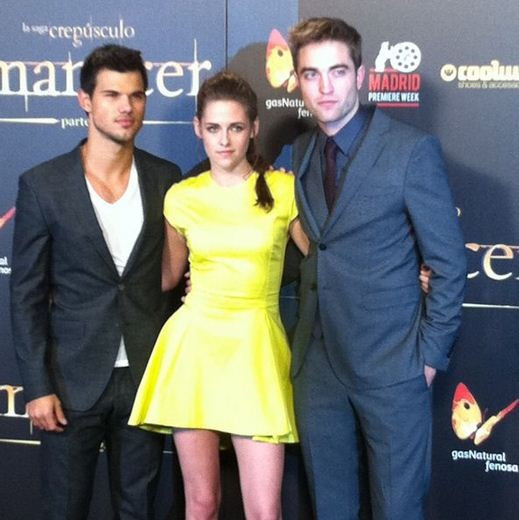 Kristen Stewart was seen with co-star and boyfriend Robert Pattinson, as the star duo arrived in the Spanish capital of Madrid for the premiere of The Twilight Saga: Breaking Dawn Part 2.
The 22 year old actress turned out in a bright yellow Dior mini-dress and Barbara Bui black-and-white print pumps with a studded ankle strap. However, unlike the hairstyle at the London premiere of the film, Stewart braided and side-swept her hair for the occasion. The lip colour remained the same though - a shiny pink. Pattinson and co-star Taylor Lautner looked dapper in their suits, as the trio posed for the shutterbugs.
Earlier in the day, the trio attended a photo-call at the Villamagna Hotel and Stewart wore a navy and white sleeveless body-con dress from British designer Julien Macdonal's Spring 2013 collection. The outfit also featured an elaborate gold-beaded neckline. The look was completed with black Jerome Rousseau sandals and a Cartier bracelet. Stewart, Pattinson and Lautner were joined by director Bill Condon and producer Wyck Gordon.
"This is weird, right? I don't know. I'm so happy that every single bit of the story is done," Stewart had said at the London premiere, adding, "Usually we're at one of these premieres going, I don't know, you can't really feel it because you're not done. You're a little desensitised by it all because you have another one coming up. This time it's a trip, it is weird."
The actress, whose recent films also include On The Road (she appeared in a sexy ALC black dress for that event), also spoke about how she would miss being a part of the Twilight world, even if it was only make-believe.
''We were filming some additional honeymoon footage in St Thomas and the sun was coming up. We knew we had to stop shooting but we didn't want to let go!'' she was quoted as saying, describing the last day of shooting for Twilight Saga: Breaking Dawn, Part 2, "'We got to live in this world for so long and then it was like a weight was lifted. The fact that it was all done, that's when the pain gets you. Suddenly this thing I'd been waiting to relinquish and desperately wanting someone to take off my hands, I wanted it back!''
The Twilight series is based on the best-selling novels of Stephenie Meyer and this film - Twilight Saga: Breaking Dawn Part 2 - is the final installment of the film.