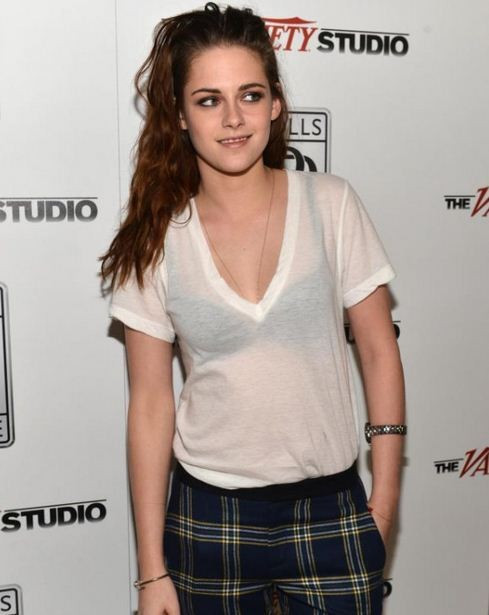 Kristen Stewart has ditched her more glamorous look for tomboy attire at the Variety Awards Studio in Los Angeles, California.
The 22-year-old actress wore a sheer white A.L.C. top with a pair of androgynous navy and yellow-coloured tartan trousers by Juicy and rounded it off with a pair of black Cole Haan oxfords. Her hair was left open and arranged in artfully messy manner, as she posed for photographers.
Her choice of outfits for this occasion comes after some impressive fashion statements while promoting Twilight Saga: Breaking Dawn Part 2, the final film in the hit franchise based on Stephenie Meyer's novels.
At the London premiere, for example, Stewart was seen in a sexy black Zuhair Murad jumpsuit and Christian Louboutin heels, while the glamorous young star wore a bright yellow Christian Dior mini-dress and Barbara Bui black-and-white print pumps with a studded ankle strap in Madrid. She wore Zuhair Murad for the Los Angeles show as well and at the final premiere in Germany, Stewart went for a shimmering Elie Saab golden gown with a seductive slit up one leg.
Meanwhile, James Gandolfini recently praised Stewart for her role in On the Road (a film based on American author Jack Kerouac's novel of the same name) in Variety's Actors on Actors feature. The film is about the years the author spent travelling across the United States with his friend Neal Cassady and the people they met at that time. Stewart plays Marylou, the 16 year old wife of Cassady.
"Kristen Stewart is one of the mad ones. But mad in a beautiful way," he said, "And she is determined to make people mad. To show them she is more than Bella in "Twilight." To show them she does burn, and smolder, and wants more out of her career and life. And smolder she does. "
"As soon as she steps into the movie On the Road, you can't take your eyes off her. As Marylou, whenever she fixes her gaze, you see someone who will go as far as she can, and do it as mad as she can, to live and feel alive. And it is sexy and scary and reckless and smart. She can play all of these things. She has them at her fingertips. She is just beginning. She is fearless. And that can be that good, and that can be very bad. But she is smart enough to handle it," Gandolfini added.