Fears are mounting that the flesh eating drug krokodil is spreading across the US as five cases have been reported in Chicago.
The drug, which turns users' skin to scales and rots flesh from the inside, has now been detected in Arizona and Illinois, with reports suggesting it has also surfaced in New York and Oklahoma.
According to the Chicago Sun Times, five people have sought treatment for side effects of the drug in Joliet, a suburb 40 miles from Chicago.
The cases involved three women and two men. All said they thought they were buying heroin but were given krokodil instead.
Krokodil, which became popular in Russia around 10 years ago, is similar to heroin but the effects last for a shorter period. It is also much cheaper as it can be made from everyday household items such as lighter fluid, gasoline, paint thinner and codeine.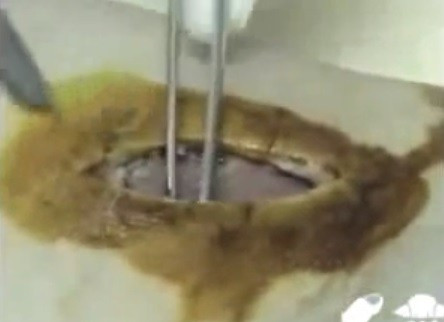 It is extremely deadly and users normally only live for around three years after they start injecting. The drug dissolves user's jawbones and teeth, causes blood vessels to burst, which leaves skin green and scaly - where it got its name as users begin to resemble reptiles.
Abhin Singla, director of addiction services at Presence Saint Joseph Medical Centre, where all five cases were identified, said he believes the drug came from Chicago.
"They're thinking it's heroin they're buying and they're actually getting this other drug," he told the Sun Times. "I think given time I could see someone with a very bad habit going to this because it's cheaper, but I don't think that's what we're seeing right now."
He said all the women were white, middle class and in their early to mid-20s. Two left the hospital for fear of prosecution, while the other remains in intensive care.
Up to 80% of her body was covered in open wounds which had to be cut away in surgery, in some parts down to the bone.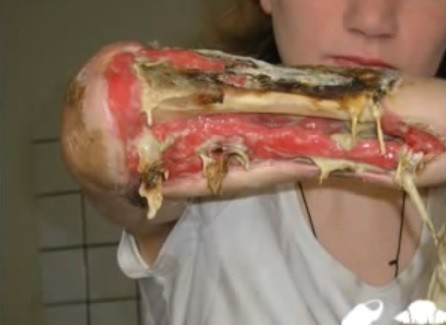 Jan Ciccarelli, hospital spokeswoman, said doctors believe they have saved her limbs: "She is very lucky to be alive. She's lost not only skin but fat tissue and some muscle, but they think they saved her life." Two men, aged 22 and 32, came in with wounds on their upper arms.
These latest cases follow two in Phoenix, Arizona. Frank LoVecchio, co-medical director at Banner's Poison Control Centre, told KPHO: "As far as I know, these are the first cases in the United States that are reported. So we're extremely frightened ... Where there is smoke there is fire, and we're afraid there are going to be more and more cases."
Despite the reports, the Drug Enforcement Administration in the US has said krokodil is not spreading and is not investigating cases in Illinois or Arizona.
Spokeswoman Dawn Dearden told Fox News: "We, the DEA, are not seeing cases of it. Nothing's been turned into any of our labs. As far as the DEA is concerned, we have not seen any cases."