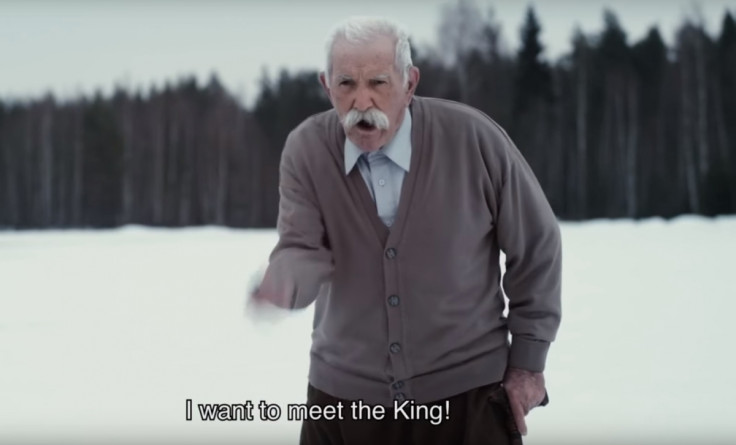 Hisham Zaman loves beautiful love stories from his region, Kurdistan, but he doesn't get to watch many of them on the big screen – and he is a movie director. "I hope someday, someone will tell one, with a happy ending too," he said. Speaking on the sidelines of London's Kurdish Film Festival, which opened last week, Zaman explained Kurdish cinema's sweetness deficiency has deep roots.
Among the over 30 films on show at the London's Kurdish Film Festival only one is a comedy, Pitza a Datteri, a dark satire poking fun at Islamic extremism. Set in Venice it features clumsy radicals engaging in a series of farcical attempts to murder a woman that turned a former mosque into a hair salon.
Most of the other movies and documentaries from in the Kurdish regions of Iraq, Turkey, Iran and Syria, as well as the Kurdish diaspora in Europe, proposed at the Hackney Picturehouse deal with war, loss, migration and social issues.
Zaman, an award-winning director living in Oslo, says this is partially because, due to the constant conflict that has afflicted Kurdistan, its cinema has come of age only recently and still has a lot of catching up to do.
"[Directors] have mastered the craft of cinema in the last 20 years and have started from stories that their fathers and grandfather could not tell to show the world what kind of tragic path they went through," he told IBTimes UK. "They focus on [issues] that are painful to watch but also important not to forget." Light-hearted movies "seems to be standing in queue" waiting their turn to be told, said the 40-year-old. "Maybe our children will tell them" he said.
It was a confession of his own guilt for the director formed at the Norwegian Film School of Lillehammer. His productions in fact draw heavily from his own tragic experience. He was forced to leave his native city of Kirkuk in Iraqi Kurdistan aged 10, as his family fled the conflict between Kurdish militias and the Saddam Hussein regime, a confrontation that peaked with the infamous 1988 gas attack on Halabja.
Zaman became a refugee in Iran before moving to Turkey and finally reaching Norway in 1992. Most of his movies, including the award winning Bawke and Before Snowfall, speak of travel and migration.
His latest work, Letter to the King, which was shown at the London festival and has already won prizes in Norway, Sweden, Dubai and Italy, also deals with diaspora, depicting the entangled stories of five refugees in Norway who came to Europe with a dream that they didn't necessarily went on to achieve. "People who lost everything when they quit home and are left with only dignity, which they don't want to lose," he explained.
Zaman believes the people embarking on a journey to Europe today are facing more challenges than he did in the early 1990s, as mistrust and ill feelings towards immigrants have grown. "They leave from a drama and will come to a new one," he said.
When he landed with his family in Norway in December 1992 aged 17, it was snow pouring down on the runaway and the smiles of people at the airport that made him feel at home, he said.
"We had been living in a very harsh world for seven years as refugees and I felt coming to Norway was the turning point in our life. I felt like the snow was welcoming me," he recalled, choking back tears. "Everywhere was white I felt like a huge gate was opening open for me and my family. I felt beauty, warmth and kindness from the people that were smiling at us as they could see we were wounded from the past. I'll never forget this."
He urged Europeans to look at them as people and not refugees or migrants. "That is just a part of their lives. They were forced to be refugees but once they were something else," he said. "We all want a better life, why a refugee cannot with that for himself or his children too?"