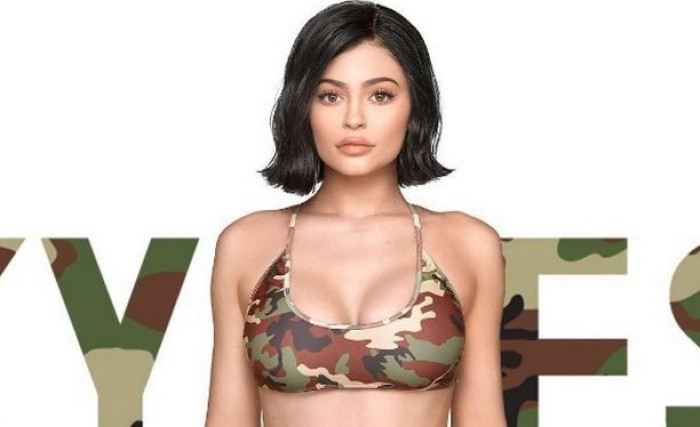 Reality star Kylie Jenner reignited rumours of undergoing a breast augmentation surgery after her recent outing in West Hollywood. The 19-year-old, who is no stranger to donning bold and daring outfits, was dressed in a figure-hugging gown sans bra, which seems to have fuelled the boob job rumours on social media.
For the night-out with her best friends Pia Mia and Jordyn Woods, Jenner rocked a slinky bronze dress paired with fur-lined heels and a Louis Vuitton purse. However, the flashing paparazzi caught an eyeful when Jenner made her way to the LA eatery.
With the thigh-high slit and the plunging neckline, the form-fitting gown amply showed off the Keeping Up With The Kardashian star's enviable figure.
However, the braless look also caused Jenner's fans to wonder if she has indeed gone under the knife.
"When did Kylie Jenner get that chest?" a fan asked, while another astonished viewer noted, "There's no way Kylie Jenner didn't get a boob job. Girl, you lied about your lips so no ones gonna believe you now about your t*****s".
"Kylie Jenner tried fooling us all with that push bra video. Bet you right that day she had a boob job appointment," a Twitter user shared. The flurry of comments continued with fans sharing more such hilarious and sarcastic tweets about the Jenner allegedly undergoing a breast enhancement surgery.
"There are two things I want in life: Harry to love me and for Kylie Jenner to admit she's had a boob job," another tweet read.
While this is not the first time that the lip-kit maven has sparked such rumours, she has strenuously denied any kind of artificial implants to enhance her assets in the past. "No, people, I havent gotten breast implants!" Jenner shared with her fans. "Everyone is obsessed with that. Truth is, as I've gotten older, I've gained 15 pounds and my body has changed; I've definitely filled out."
"I don't share this with a lot of people, but everyone thinks I've gotten breast augmentation recently, but I haven't. I just use the Bombshell by Victoria's Secret [bra]. It's life-changing. I've gotten all my sisters on it and all my friends," the teenager added on her official website in an attempt to shut down the whirlwind gossip.