Kylie Minogue hadn't accounted for how much pressure she would be under as the only coach on The Voice UK with a final chance to steal one of the acts.
But the stress of watching one act after the other leave in tears, was all made more bearable when she was serenaded by Femi Santiago.
The singer, who found himself in a face-off with Iesha failed to get through the battle round, but still had one last chance to stay in the competition.
"My family, my career, the rest of my life is riding on this," said the hopeful singer, who had spent six months living on the streets when he was a teenager.
As the Aussie pop princess turned away one act after the other despite their pleas and their tears, it seemed she was holding out for Santiago the whole time.
But she got more than she bargained for when the smooth singer, goaded on by Will, serenaded her.
"I was always gonna turn for you," she said. "The serenade was just the icing on top."
The competition saw another set of singers battling it out for a place in the next round. Ricky Wilson kicked things off, with rocker Jamie Lovatt going head to head with Chris Royal on a version of Adele classic Rolling In The Deep.
And while Wilson admitted the vocal duel was "amazing stuff" in the end he went with Royal. "You get me every time,' he told him.
Minogue paired 16-year-olds Rachel and Amelia together for a sing-off to the Jay-Z hit Holy Grail but saved Rachel.
"It's really hard," she admitted, "but Amelia has that something," she said later.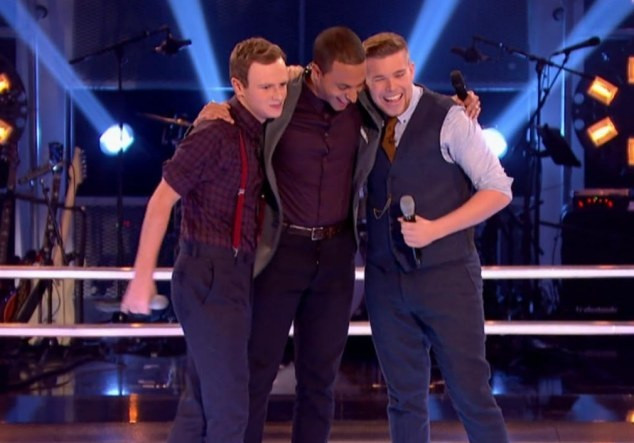 Will.i.am's acts included Burlesque dancer Kiki De Ville and James Byron who performed the Patti Smith power ballad When The Night.
It was perhaps, the toughest call of the night.
"That was fantastic, that was flawless," said Will. "You guys were immaculate – proud of you guys."
Disappearing off set for a moment to "clear his head," he returned, choosing Byron and leaving De Ville in tears.
Minogue meanwhile, had yet to make the impossible choice between James and Joe who performed Counting Stars by OneRepublic.
The fact that the singer's had become such close friends made it even harder for Minogue to make her choice.
Moved to tears by the performance which she said "left her shaking with excitement," she opted to save Jamie.
"It was horrible to have to choose either one of them," she said later. "I just feel Jamie was that little bit more secure, but I'm just splitting hairs with both of them."
The Voice UK continues on BBC 1 on Saturday 15 March at 7pm.