Back in 2014, filmmaker Damien Chazelle made everyone sit up straight and take notice of his work with a tense drama, Whiplash. He didn't ask politely, he demanded that you do so, with a picture that was simultaneously hard and great to watch. Here, he drums to a completely different beat, offering up a romantic musical that will leave you feeling like you're up on cloud nine.
Set against a heightened, neon-lit and dreamy Hollywood backdrop, the film follows aspiring actress Mia (Emma Stone) as a waitress at a movie-set coffee shop, and jazz musician Sebastian (Ryan Gosling) who plays in strict set-list-only restaurants to make a living. The pair meet and fall in love and, through his determination to help Mia achieve her goal of becoming a film star, Sebastian reluctantly takes a job with an R&B fusion band, The Messengers (fronted by John Legend). But while the steady money makes him happy the gruelling schedule and sell-out music does not, and Mia can't help but feel he's not being true to his creative lights.
Meanwhile she continues to lose confidence as a run of unsuccessful auditions unfolds and the one-woman show that she is developing struggles to get off the ground. And along the way, certain opportunities they've worked so hard for threaten their otherwise perfect relationship.
Our verdict
While films like this were common practice back in the 1940s and 1950s when Ginger Rogers, Fred Astaire and Gene Kelly owned the silver screen, musicals are undoubtedly a dying breed. With that in mind, its easy to understand why La La Land's opening scene feels a little out of place, seemingly just dropped in to establish from the get-go that "Yes, this is a musical" and "Yes, there will be random people singing and dancing throughout."
In all honestly, we're just not used to it and it's a shame. As a sequence, it's technically faultless, with choreography that hits all the right beats and establishes a welcome, cheery tone. On the other hand, you're not quite ready for it and, with no characters set up yet, you're not all that invested either.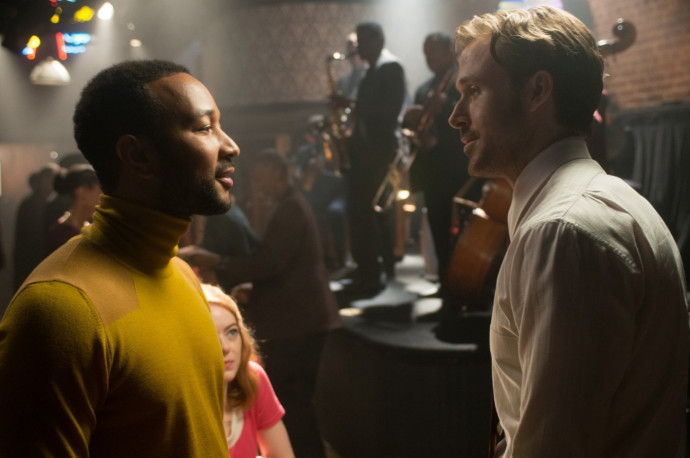 That being said, as the film hits its groove towards the end of the first act, and its instantly likeable leads inevitably become closer - it is a romance, after all - the musical numbers match the story's tempo and plot. From there, it justifies the Oscar buzz that it has already been receiving. Much of La La Land's success comes from it daring to be exactly the kind of film it wants to be, and not being afraid to try things outside of the norm.
While it's gutsy and brave throughout, having its stars frequently break into tap-dance routines to orchestral swells and act out dream sequences, it never takes itself too seriously and interjects humour wherever it can. This isn't a movie that satirises itself - far from it - but it is bold enough to have fun with the genre, and is a joy to watch.
But while the movie is a gem, this evidently risky outing would never worked without a strong cast. Despite a plethora of great players including Finn Wittrock, Rosemarie DeWitt and a stand-out J.K. Simmons, La La Land ultimately owes everything to Stone and Gosling's magnificent double act.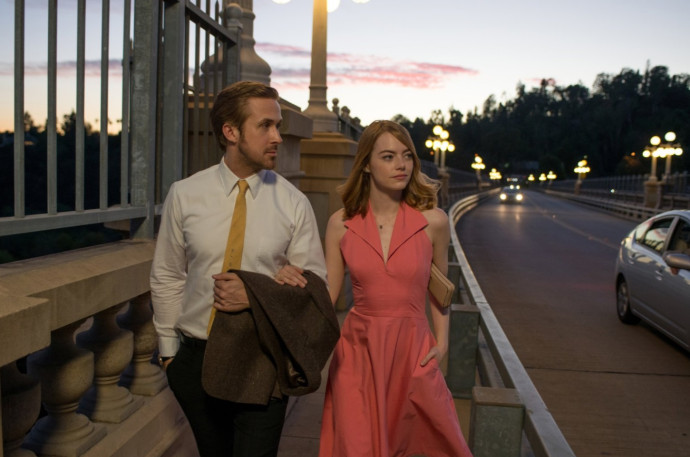 Both of them fit their character like a glove, almost as if the roles were written specifically for them. Stone gets plenty of chances to pull her brilliantly goofy faces as Mia mocks Sebastian's puppy-dog enthusiasm, and milks her emotive, glossy eyes during the film's more melancholy scenes. Meanwhile, Gosling often slips into sarcastic and sometimes slapstick comedy while also maintaining his smooth cool that makes him the perfect alternative to a central-casting love interest.
There's no denying that the pair give it their all, but the film is often at its sweetest when they don't go full jazz-hands. Their singing styles - soft and hesitant - suit not only their tender onscreen relationship but the tone of the whole film. They don't possess the best voices in the world, but their performances are natural and genuine.
It's not simply the stars that shine bright either. Cinematographer Linus Sandgren also flexes his daring, stylistic chops throughout. With stunning iris and dissolve transitions (which hark back to vintage filmmakers using in-camera effects to begin or end a scene), purposely underexposed set-ups, technicolour vibrance and completely silhouetted black-and-white shots, it's certainly a feast for the eyes.
As expected from the mix of genres and the chemistry between Stone and Gosling, the film reaches dizzying heights of whimsy, with Gosling's charming Sebastian literally sweeping Mia off her feet during a visit to the Griffith Observatory. But that's not where this story ends.
While most movies close with the characters achieving their dreams, La La Land goes further, straight to the comedown as cracks in Sebastian and Mia's seemingly perfect relationship begin to show. Yet despite its willingness to go into such dark areas, La La Land is ultimately a sunshine-filled breath of fresh air which will leave you giddy with nostalgia and happiness.