Porsche has unveiled a more powerful, uprated GTS version of its four-door Panamera, with a 4.8-litre V8 producing 430bhp and 'Sound Symposer' exhaust amplifier.
The naturally-aspirated Panamera GTS has 30bhp and 15lb ft more than the standard car, as well as lowered air suspension, larger brakes and styling tweaks taken from the Turbo model.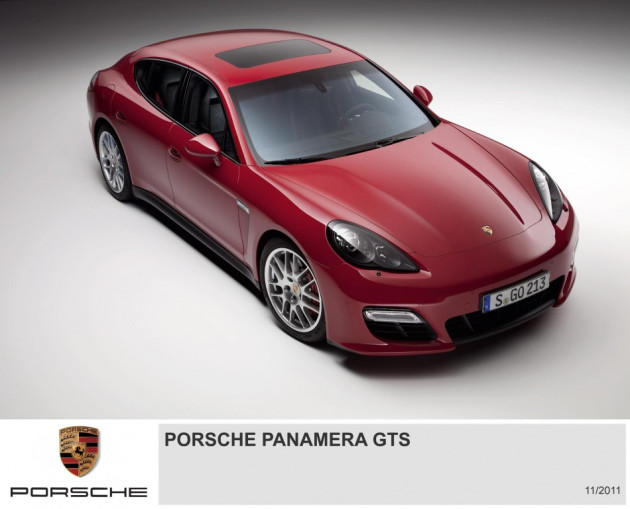 An interesting new feature is what Porsche is calling 'Sound Symposer', which directs engine noise directly into the interior at the push of a button, suggesting that while the Panamera maybe a refined GT cruiser, Porsche is keen to let enthusiastic drivers enjoy the car too.
A trick sports exhaust - which comes as standard on the GTS - features a larger diameter pipe to reduce back pressure and two tuning flaps which "expose additional exhaust openings, thereby emitting an even more powerful sound."
The sports theme is continued with a 12 o'clock marking on the 'SportDesign' steering wheel - something usually seen on rally cars so the driver can see how much steering lock is applied at a glance - as well as lashings of leather and Alcantara trimming.
All four wheels are driven via Porsche's seven-speed PDK transmission and the increased power output sees the 1,900kg Panamera GTS reach 62mph just 4.5 second and reach a top speed of 179mph.
Parts borrowed from the Panamera Turbo include the 19-inch wheels, 5mm rear wheel spacers and larger brake discs - recognisable by their red brake callipers.
The GTS logo is featured on the stainless steel door sill covers, the instrument cluster, seatbelts and on the embroidered headrests. A sporting theme is continued with the centre console display, which shows lateral and longitudinal acceleration.
The Porsche Panamera GTS will go on sale in the UK from February 2012, with prices starting at £90,409.