Volkswagen's new Beetle R Concept made its American debut this week at the LA Automobile Show, featuring completely redesigned front and rear bumpers and a larger, chunkier design than the previous Beetle.
The rear end is dominated by the larger, wider bumper, as well as four exhaust pipe - two on either side - while increased downforce and stability is created by two wings which are 15mm wider than standard and a diffuser.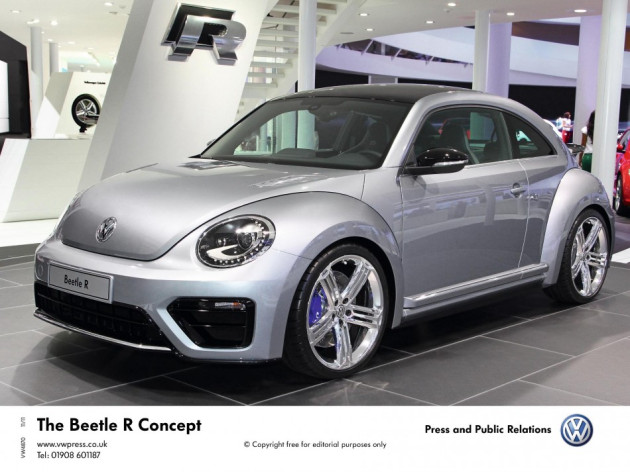 American was the biggest market for the last Beetle, so Volkswagen will be hoping that the new Beetle R will continue to drive sales in the US, with its distinctive, muscular looks aimed squarely at the fashion-conscious.
While the car is still a concept for now, Volkeswagen is keen to point out in its press release that the Beetle R's siblings - the Golf R and Scirocco R - are both powered by a 2.0-litre four-cylinder turbocharged engine producing around 270bhp, so if the Beetle R makes it into production expect a very similar power output.
Those who are familiar with the Volkeswagen R range will recognise the Beetle's five-spoke Talladega alloy wheels, pumped up to 20 inches and sitting in front of blue brake callipers.
The Beetle R is some 30mm wider than the standard model, and styling cues also taken from the Golf and Scirocco R include flashes on gloss black pain on the door mirror caps, door handles, and roof, and also on the door sills, which are now 15mm wider.
Inside, both driver and front passenger are held securely in hard-shell racing seats covered in black Nappa leather, and the same upholstery is used on the twin rear seats.
The Beetle R is still a concept, but as concepts go it certainly looks road-worthy, and it would presumably require very little modification or further development by Volkswagen to be made production-ready.