Jeremy Corbyn has been criticised by members of his own party after they said he likened Israel to the Islamic State (Isis) during a speech on anti-Semitism.
The Labour leader was also condemned for failing to act when he saw a Jewish MP leave a press conference in tears after being verbally attacked by a pro-Corbyn activist.
Corbyn had been speaking at the publication of a report by former director of Liberty, Shami Chakrabarti, on Thursday (30 June).
He said: "To assume that a Jewish friend or fellow member is wealthy, part of some kind of financial or media conspiracy, or takes a particular position on politics in general, or on Israel and Palestine in particular, is just wrong.
"Our Jewish friends are no more responsible for the actions of Israel, or the Netanyahu government, than our Muslim friends are for those of various self-styled Islamic states or organisations.
"Nor should Muslims be regarded as sexist, anti-Semitic or otherwise suspect, as has become an ugly Islamophobic norm. We judge people on their individual values and actions, not en masse."
Sam Stopp, a Labour councillor in Wembley, said Mr Corbyn had compared Israel to Isis in his comments. He wrote on Twitter: "For that alone, he should resign. I am red with fury."
Labour Friends of Israel, a prominent pro-Israel campaign group made up of Labour MPs, also tweeted: "We completely condemn any comparison between Israel and ISIS. Disgustingly offensive and demeans the Labour Party."
The UK-based Campaign Against Antisemitism added: "For Jeremy Corbyn to compare Israel to ISIS during his event dedicated to anti-Semitism only goes to show just how little grasp he has of this pressing problem for his party."
Corbyn later denied he was likening Isis (Daesh) with Israel, saying: "In the report it says that you shouldn't say to somebody just because you're Jewish you must have an opinion on Israel, just as much as you shouldn't say to a Muslim that you must have an opinion on Isis."
His supporters claimed he was being unfairly attacked and had simply echoed the report's sentiment that Jews and Muslims should not be considered representatives of certain governments or groups.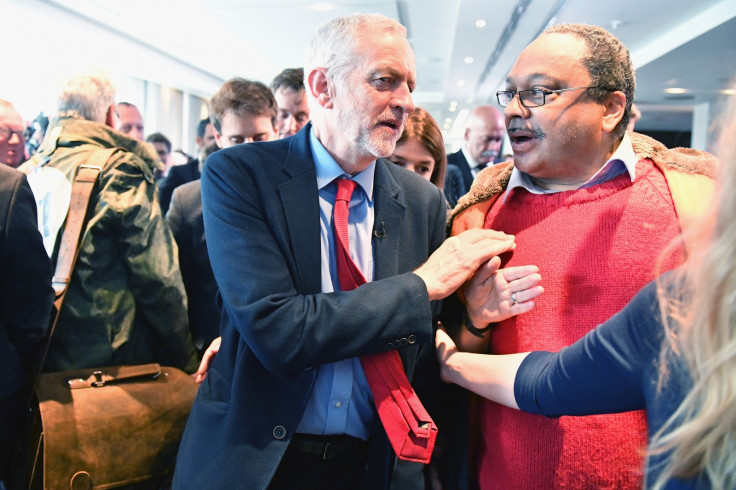 Jewish MP leaves in tears
The headline findings of Chakrabarti's report – which found the Labour Party was "not overrun by anti-Semitism, Islamophobia or other forms of racism" – were overshadowed not only by Corbyn's choice of words, but also a later incident which happened during the press conference's Q&A session.
Jewish Labour MP Ruth Smeeth reportedly left the room in tears when she was accused by an activist sitting in the audience of working "hand in hand" with anti-Corbyn members of the press.
The activist, named as Marc Wadsworth, told the event: "I welcome this report you've been very brave Shami [Chakrabarti] in refusing to raise the temperature of the witch-hunt that has been going on in this anti-Semitism debate.
"I saw that the Telegraph handed a copy of a press release to Ruth Smeeth MP so you can see who is working hand in hand."
Several witnesses said Smeeth, the MP for Stoke-on-Trent North, then left the room in tears. She later attacked Corbyn by saying he "stood by and did absolutely nothing".
"This morning, at the launch of the Chakrabarti Inquiry into antisemitism, I was verbally attacked by a Momentum activist and Jeremy Corbyn supporter who used traditional anti-Semitic slurs to attack me for being part of a 'media conspiracy'," she said in a statement.
"It is beyond belief that someone could come to the launch of a report on anti-Semitism in the Labour Party and espouse such vile conspiracy theories about Jewish people, which were ironically highlighted as such in Ms Chakrabarti's report, while the leader of my own party stood by and did absolutely nothing.
"Until today I had made no public comment about Jeremy's ability to lead our party, but the fact that he failed to intervene is final proof for me that he is unfit to lead, and that a Labour Party under his stewardship cannot be a safe space for British Jews."
Wadsworth, who denied being a Momentum activist, later said he "didn't have a clue that Ruth Smeeth is Jewish".
He told the Independent: "I've never been called anti-Semitic in my life. I've fought against anti-Semitism and racism. During the anti-apartheid struggle, I fought alongside the Jewish Board of Deputies. The Jewish people have an ally in me."
Anti-Semitism inquiry
Chakrabarti's report followed a two-month inquiry into anti-Semitism, Islamophobia and other forms of racism within the Labour Party.
The inquiry was announced by Labour leader Jeremy Corbyn on 29 April after the Labour Party faced accusations it had failed to combat discrimination among its members. It followed a week that saw Naz Shah, the Labour MP for Bradford West, suspended over 2014 Facebook posts she made before being elected in 2015.
The posts argued that the "solution" to the Israel-Palestine conflict was to "relocate Israel into the United States", adding that "transportation costs will be less than three years of defence spending".
Former London mayor Ken Livingstone took to the airwaves the following day to defend her with a series of controversial remarks linking Hitler with Zionism. The former Mayor of London was suspended but has always defended his comments as misrepresented, declining to apologise.