Labour's Ed Miliband will today 28 April address what he calls the Tories' record of failure on immigration, saying that numbers had risen to 300,000 after promising to cut them to less than 100,000.
Speaking in the Vale of Glamorgan, Miliband will declare he is determined to restore trust on the issue of immigration by addressing people's justified concerns with Labour's first 100 days action plan.
He will say he will publish an Immigration Bill in the next government's first Queen's speech to "rebuild public trust, strengthen borders, restore contribution, champion integration and end the exploitation that undercuts wages".
Miliband is expected to say: "Immigration can benefit Britain and, as the son of two refugees myself, I will never do anything to denigrate or demean the contribution people who have come to this country have made.
"The next Labour government will build a future that works for working people, a recovery that reaches every part of our country, and we will deal with people's concerns because we have listened, we have learned and we have changed."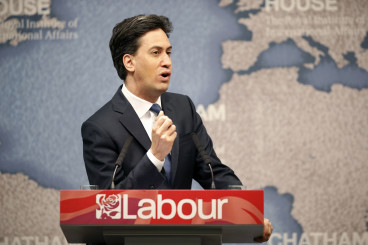 He will add: "David Cameron once promised to cut net immigration to tens of thousands – and told us to kick him out of office if he didn't deliver. But net migration rose to 298,000 last year, almost exactly three times higher than he promised.
"Nothing damages people's faith in politics more than broken promises like that - or those he is still making today. I will only make promises I can keep. I won't offer false targets or seek to exploit concerns with the politics of fear. Instead, I am offering clear, credible and concrete ways of making a real difference."
If he is elected on 7 May he will launch in his "first 100 days with an Immigration Bill in our first Queen's Speech to raise the money needed for another 1,000 borders staff, stop people who have committed serious crimes coming to Britain, and insist large firms bringing in workers from outside the EU to offer apprenticeships here.
"If I am Prime Minister, we will drive out the exploitation that drives up low skill migration and drives down local wages. But I will never turn my back on our traditions of tolerance and being outward-looking to the world, nor on the students and top talent who can help us build future success."
And he is expected to take Prime Minister David Cameron to task, saying that "immigration is too important an issue for our country to be abandoned by the Prime Minister so it can be exploited by Nigel Farage".