Labour party leader Jeremy Corbyn is one of the British MPs who may be barred from visiting Israel after the country's parliament voted to ban entry to supporters of the Boycott, Divestment and Sanctions (BDS) movement.
The Knesset passed the bill late on 6 March and it applies to those who publicly call for boycotts against Israel, Israeli institutions or areas under the country's control, such as the settlements.
As a statement on the parliament's website explained, the bill prevents the release of entry visa and residence permits to foreign nationals "who knowingly issued a public call for boycotting Israel that, given the content of the call and the circumstances in which it was issued, has a reasonable possibility of leading to the imposition of a boycott – if the issuer was aware of this possibility."
According to Israeli newspaper Haaretz, the definition was copied from a 2011 law that permitted civil lawsuits against BDS activists.
The bill was passed with 46 votes in favour and 28 against. Among the opponents were members of the Joint List, a political alliance of four Arab-dominated parties. Joint List leader Ayman Odeh told the Knesset: "These are people who act not against the state but against the occupation. I'm against the occupation and for a boycott of the settlements that are a war crime and the theft of land from private individuals. The occupation will end up making Israel a leper everywhere."
A request from the justice minister to make an exception for Palestinian with temporary residence in the country was rejected, Haaretz reported, although the interior ministry reserved the right to make exception in particular circumstances.
In the UK, the Labour party leader is a long-time campaigner and one of the most influential voices in British politics for Palestinian rights. He also expressed support of the BDS movement in the past. For instance, during the 2015 campaign for party leadership, Corbyn said at an event in Northern Ireland: "I think the boycott campaign, divestment campaign, is part and parcel of a legal process that has to be adopted."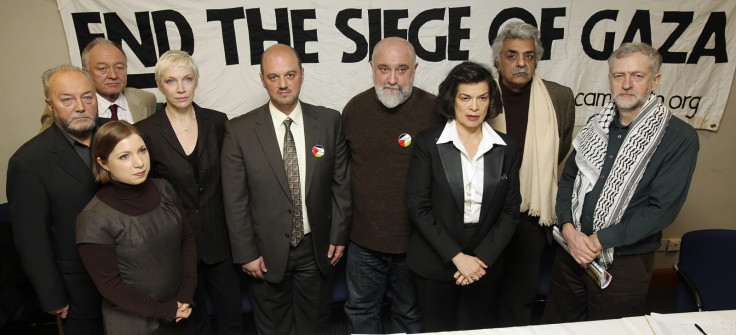 Corbyn is not the only MPs who has criticised Israeli policy in the past. In 2014, Conservative MP and Foreign Office minister Sir Alan Duncan dubbed illegal Israeli settlements in the West Bank as an example of "apartheid".
Duncan's statements have made him unpopular among the pro-settlers and the Israeli embassy had to issue an official apology after one of its official was caught on camera discussing how to "take down" the minister. Neither the Labour party nor the Foreign Office responded to a request for comment from IBTimes UK at the time of writing.