Labour MPs join angry commuters for station protests against further rises in rail fares
Labour's Shadow Transport Secretary told IBTimes UK he backed the renationalisation of the railway.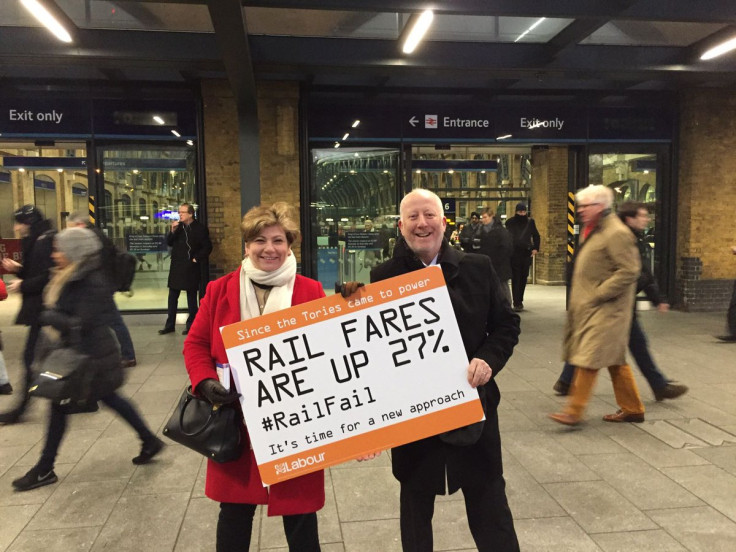 Labour MPs have joined forces with campaigners staging protests up and down the UK against the latest annual rise in rail fares.
Protesters descended on over 100 train stations in England on Tuesday (3 January), angered by further increases to ticket prices as research showed that Britons are now paying six times more than their European neighbours to travel on the railway. Similar protests will take place in Scotland on Wednesday.
The Labour party showed solidarity with the action, which was organised by groups We Own It, Action For Rail and Bring Back British Rail. Shadow Ministers Emily Thornberry and Andy McDonald MP joined the crowds at London King's Cross.
Speaking to IBTimes UK, Andy McDonald said: "Enough is enough in terms of the rail fare increases and not providing that value for money that people are looking to receive. We've got a failing franchise system and we need to have a complete and utter rethink."
Photographs from King's Cross, Bristol Temple Meads and Birmingham New Street appear to suggest that the number of protesters was modest – possibly as a result of the morning's sub-zero temperatures. But there is no doubt that public reaction to the new year fare rise of 2.3% across all of Britain's rail network, which came into force on Monday, has been fierce.
Analysis published by Action For Rail shows that a season ticket from Luton to London St. Pancras is now 14% of an average worker's salary despite being only a 32-mile round trip. Similar journeys in Germany and France cost passengers just 3% and 2% of each population's average income respectively.
The research also found that UK rail fares have risen by 56% in the last 10 years while average incomes have risen by 26% in the same period.
There have been widespread calls for the railways to be renationalised in the wake of the latest fare hikes. McDonald said: "We [Labour] would be taking each and every franchise back under public control, public ownership, as and when those franchises are up for renewal or earlier, be it by break clause or default... We've got to stop these monies leeching out of the system."
Today's protest has added further consternation within the rail industry, which was besotted by strikes throughout 2016. In December, parts of Southern England were brought to a standstill when the Aslef and RMT unions' drivers' walked out for several days over plans to run services without conductors.
© Copyright IBTimes 2023. All rights reserved.