Southern rail strike: May tells Corbyn to phone his union paymasters and call it off
Unions and rail bosses will meet again on Thursday after Wednesday's talks failed to break deadlock.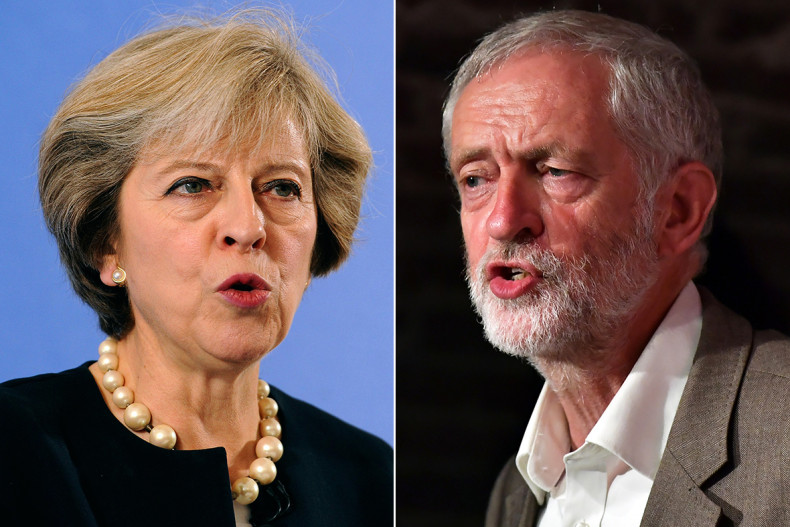 Theresa May has taken Jeremy Corbyn to task for his party's relationship with ASLEF, the train drivers union at the heart of strikes that have brought parts of southern England to a standstill this week. Meanwhile talks between ASLEF and Southern this afternoon (14 December) have not led to the cancellation of further strikes.
Speaking at Prime Minister's Questions, she said: "The Labour party is funded by ASLEF – why doesn't it get on the phone and tell them to call the strike off immediately?" A cry of "Corbyn's mates" was also hurled across the floor from the Tory benches.
In 2015 ASLEF donated £116,000 to the Labour party, according to the Daily Mail. Electoral Commission records show they also donated £10,000 to Jeremy Corbyn twice in the last 12 months.
Corbyn has long been dogged by criticism that he is in the pay of militant unions. The Mail reported that Corbyn attended ALSEF's Christmas party last Friday (9 December).
The leaders clashed at PMQs as the strike on Southern rail entered its second and final day with another scheduled for Friday 16 November. Southern have warned commuters to expect severe delays on Thursday despite there being no strike action. Passenger services director Angie Doll said: "With today's strike ending at midnight, despite our best efforts, some trains and crew will still not be in position for tomorrow's service; and the overtime ban will continue to have a serious impact." In addition to the three days of complete walkouts, there is currently a separate ongoing industrial action by drivers refusing to work overtime.
Southern industrial action: What and When?
Tuesday 13, Wednesday 14 December and Friday 16 December - ASLEF & RMT drivers' strike
Ongoing and indefinite - ASLEF drivers ban on overtime
Monday 19 to Tuesday 20 December - RMT conductors' strike
Saturday 31 December to Monday 2 January - RMT conductors' strike
Monday 9 to Saturday 14 January - ASLEF & RMT drivers' strike
Union bosses today met with Southern and ACAS, an industrial relations arbiter, in an attempt to break the stand-off. An ASLEF source told IBTimes UK "the talks have been positive". Friday's strike is, however, still scheduled. Talks will resume tomorrow (15 December) at 10.30am GMT.
The RMT, who represent only 12 drivers and all conductors, were not involved in today's negotiations. RMT leader Mick Cash was furious and accused Southern of "complete contempt." He said: "This morning, on arrival for the talks, I was told that I would not allowed to take part by representatives from the company."
Nick Brown, Chief Operating Officer of Govia Thameslink Railway, Southern's parent company, said he would be "happy to meet him [Cash]... to talk about any new proposals he has to try and end the conductors' dispute." An RMT spokeswoman told IBTimes UK that they were still awaiting Cash's response.
On Tuesday 13 December London's Labour Mayor Sadiq Khan criticised the government's handling of the issue and appealed for London commuter train services to be brought under his control. Meanwhile Transport Secretary Chris Grayling attacked unions, saying that he did "not understand" their position.
Drivers from the ASLEF and RMT unions claim Southern's proposal to make drivers responsible for operating train doors instead of conductors is unsafe. These claims have been disputed by industry regulator the Office for Rail and Road and the government who point to the fact that driver-only trains already operate on 30% of the UK's railways. Unions counter that this does not prove they are safe and, also, that the proposal will extend the practice to trains with many more carriages leading to increased risk.