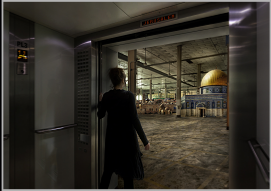 Larissa Sansour has been removed from the shortlist of the Lacoste Elysée Prize, for which she was nominated in November.
She was among eight artists shortlisted for the 2011 prize, whose winner will receive 25,000 euros in cash.
"Absolutely shocked to see Lacoste revoke my official nomination for the Lacoste Elysée Prize 2011. My Nation Estate project censored for being 'too pro-Palestinian'. Deeply disturbing," the Jerusalem-born artist wrote on her website Tuesday.
Nation Estate, the project for which she was nominated, depicts a dystopian, "science-fiction" vision of a Palestinian state in the form of a single skyscraper. "Inside this new Nation Estate, the residents have recreated their lost cities on separate floors: Jerusalem on 3, Ramallah on 4, Bethlehem on 5 etc."
Soren Lind, a friend of the artist, said Lacoste withdrew her nomination because it deemed the nation Estate project too political.
"It was only last week that they called and said that unfortunately the work had been vetoed by someone at Lacoste," he tells BJP. "We don't know who, but we were told that it was a high-ranking person," he said.
"We enquired about the reasons, and we were first told that the work was too pro-Palestinian, and then, when I called again, they told me that Lacoste wanted to remain a-political as a brand. For me, that's one and the same thing," he added.
"Larissa Sansour's photographic project Nation Estate was discarded because it didn't fir with the theme of thi's year's edition of the Lacoste Elysée Prize, which is 'La Joie de Vivre'. We regret the political interpretation that has arisen from this decision," said a joint statement from Lacoste and the Musée d'Elysée in Switzerland.
"I am very sad and shocked by this development," Sansour said in a press release issued in response to the Lacoste Elysée Prize decision. "Palestine was officially admitted to UNESCO recently, yet we are still being silenced.
"As a politically involved artist I am no stranger to opposition, but never before have I been censored by the very same people who nominated me in the first place. Lacoste's prejudice and censorship puts a major dent in the idea of corporate involvement in the arts. It is deeply worrying."
She adds that she declined to approve a statement by the Elysée museum saying that she withdrew her nomination "in order to pursue other opportunities."