Lady Gaga rocks out with one massive party in the music video for her latest single, Perfect Illusion. The premiere comes just days after Mother Monster announced the release date and title for her forthcoming album, Joanne.
Co-directed by Andrea Gelardin and Ruth Hogben, the visuals feature Gaga rolling around in the desert dirt interspersed with scenes of a raging party with Mark Ronson who co-produced Perfect Illusion alongside Tame Impala's Kevin Parker and Bloodpop. Coinciding with the epic key-change, Gaga's party gets even more raucous with jumping, head-swinging and strobe-lighting for good effect.
The 30-year-old released Perfect Illusion on 16 September and while it has received a warm response from fans, it has failed to light-up the charts, reaching number 12 in the UK.
In the days after its premiere, Gaga was trailing way behind former X Factor winner James Arthur whose new single, Say You Won't Let Go, was at number one on the iTunes chart. Perfect Illusion has not performed any better in the US with the track entering the Billboard Hot 100 chart at number 15.
Perfect Illusion serves as the lead single for her fourth studio album, Joanne, which is set for release on 21 October. It is Gaga's first lead single from a new album to miss out on debuting within the top 10 in the US.
Explaining the inspiration behind the album and title, Gaga told Beats 1 radio DJ Zane Lowe: "When Mark [Ronson] and I wrote it, the decision to name the album that was in tribute to my father's sister who died when she was 19.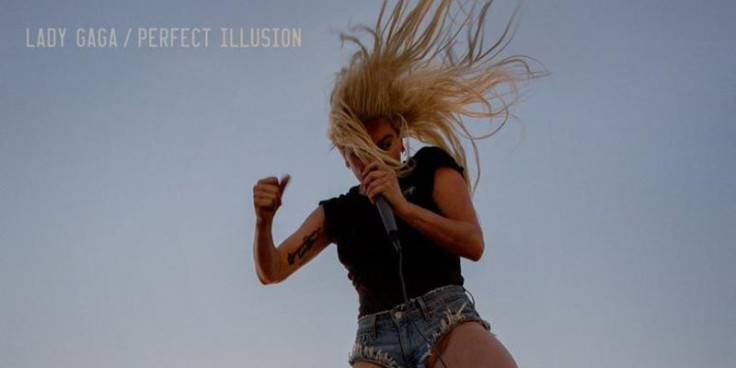 "He was younger than her. She was very sick with Lupus. The death of her in his family and life left a scar that never healed. As I returned to my home life and spending time with my friends and family and getting out of the mainstream limelight for a minute, the experiences of our family and our challenges that make us who we are."
The pop star continued: "It's everything about Joanne. It's all the toughness of the pain of losing her that made us all strong and made us who we are. She is the woman of my past who is becoming and helping me bring more of my honest woman self into the future."
Watch Lady Gaga's Perfect Illusion music video: