Land Rover's Special Vehicle Operations (SVO) division has teamed up with the Red Cross in Austria to create a special search-and-rescue drone which can be launched from the roof of the new Discovery.
Called Project Hero, the vehicle was revealed at the Geneva motor show on 7 March. The drone, which features a camera to search for missing people, can take off and land on the roof of the Discovery even when the car is in motion, Land Rover claims. It is hoped the drone will help reduce emergency response times during natural disasters like avalanches.
In what the company claims is a world-first, the drone uses "magnetic retention and self-centering technology" to land itself securely back onto the moving car. The drone and car are the latest produce of a 63-year relationship between Land Rover and the Red Cross.
Land Rover said: "With the drone airborne, live footage can be transmitted to the Red Cross's emergency response teams, helping them respond more quickly and effectively to landslides, earthquakes, floods and avalanches."
John Edwards, director manager of Land Rover's Special Operations, said: "Land Rover and the team of engineers and designers at SVO are proud to support the incredible humanitarian work of the IFRC and its members.
"The new Discovery is an outstanding all-terrain SUV, and Project Hero is the optimum combination of enhanced capability and innovative technology. We hope to help the Red Cross save lives in emergency situations."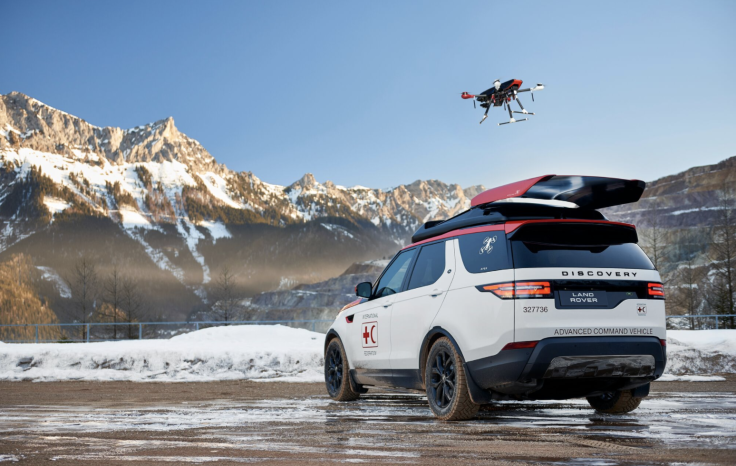 Project Hero is based on a 3.0-litre diesel-engined Discovery. The drone can be flown up to 1km away from the car, has a flight time of 20 minutes and can reach speeds of up to 33.5mph.
Far from a show floor concept, the vehicle will be based at the Austrian Red Cross training centre in Erzberg, then in Vienna, for 12months from June 2017. The drone will be used in simulations to develop new and innovative techniques for disaster relief and on test-runs for complex natural disaster scenarios, such as at night and in dense forests.
Dr Jemilah Mahmood of the Red Cross said: "Project Hero combines the best expertise of the Red Cross and Jaguar Land Rover to create a truly unique vehicle, which we hope will be capable of making a difference to rescue operations in the toughest environments."