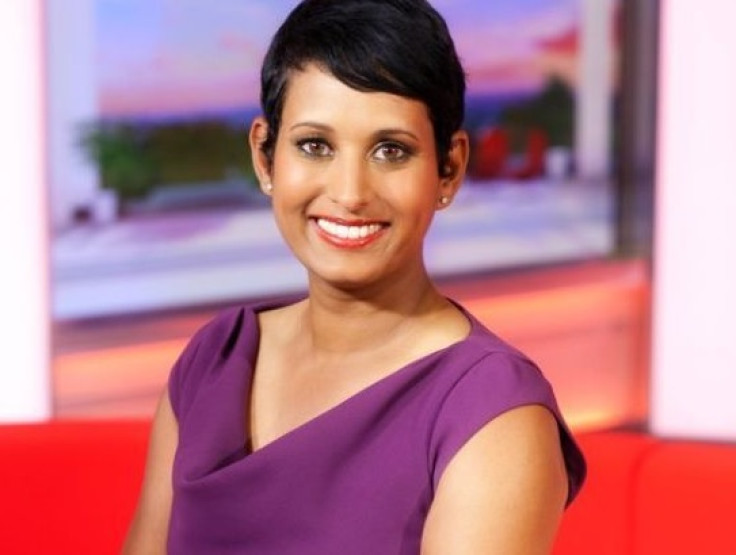 BBC Breakfast presenter Naga Munchetty is the latest celebrity to join this year's line-up on Strictly Come Dancing, and it's proven a hit with male viewers. The 41-year-old journalist joins the likes of Louise Redknapp, Ed Balls and Daisy Lowe on the famed ballroom series and has said she is "mega excited" if "petrified" to put on her dancing shoes.
She also said: "I'm going to give it my very best and enjoy what's bound to be a great adventure."
Munchetty – who joined the BBC in 2008 and is a keen golfer from Streatham, London – also divulged that she knew she would be taking part in the hit ratings show since February. But only her husband was aware of the top secret that she would be following in the footsteps of former BBC presenters Natasha Kaplinksy and Bill Turnbull.
"I never thought I'd have the courage to say yes, but it would be simply silly to turn down the chance to learn to dance with a professional," Munchetty said.
Munchetty's parents are Malayali Indian and she was born and raised in Britain, going on to study English Literature before starting her journalistic career as a finance journalist for The Evening Standard in London. She also has a passion for music and can play the jazz trumpet and classical piano.
On hearing the news, Munchetty's male fans expressed their delight on social media, with one user writing: "As if @bbcstrictly wasn't epic enough, they've only gone and flipping sign Naga Munchetty!!!!" while another wrote: "Absolutely BUZZING that Naga Munchetty is going into Strictly. Bloody love the bones off that woman."
Some people weren't too pleased to hear of the news, with another posting on the social media site: "Its only a matter of time before Naga Munchetty ends up on Loose Woman, totally out of her depth on the news."
See more of the Twitter reaction below.