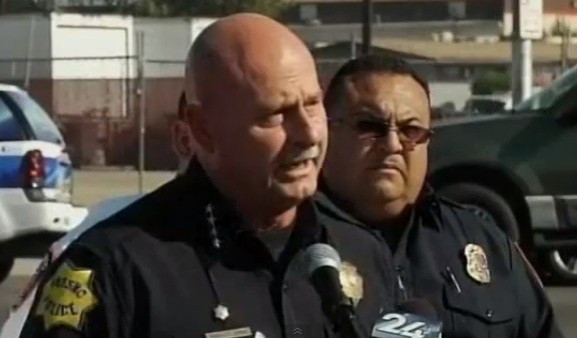 A factor worker shot two co-workers dead, injured two others and then killed himself at a chicken processing plant in Fresno, California.
Lawrence Jones, 42, pulled out a gun and opened fire in what was described as a methodical killing spree by authorities, which only ended when he ran out of bullets.
Jones, who had an extensive criminal history, began shooting halfway through his shift at Valley Protein, which was formally known as Apple Valley Farm. Colleagues told police that he did not seem to be himself when he arrived for work on Tuesday.
Jones arrived at the factory at around 5am, and began the spree at 8.30. Police said 30 of the 62 employees witnessed the attack and that he seemed to target specific people at the factory.
The ex-convict moved silently between each of the employees, who would not have heard the gunshots because they wore ear protectors to drown out the sound of the macinery.
Jones, who had worked for the factory for 14 months, first walked up to and shot 32-year-old Salvador Diaz, before putting the gun to 34-year-old Manuel Verdin's head and pulling the trigger. Both men were pronounced dead at the scene.
The gunman then shot Arnulfo Connriguez, 28, in the neck, before firing a bullet into the buttocks of 32-year-old Fatima Lopez, who was running away from the scene. While Connriguez remains in a critical condition in hospital, Lopez has now been released after receiving treatment.
According to Estevan Catano, 21, who works at the plant, Jones placed the gun against his head but it did not fire as there were no bullets left.
Finally Jones went outside, reloaded the gun and shot himself in the head. He was found by police lying on the sidewalk with a gun next to him, and was pronounced dead in hospital a few hours later.
'Something must have provoked this'
Fresno Police Chief Jerry Dyer, who described the event as a "tragedy", said: "He had opportunity to shoot other co-workers that were in the business at this time, but he chose not to.
"He walked around them in order to get very close to the intended targets, place the gun very close and fire a round."
Regarding a motive, Dyer said: "It is difficult to say at this point if in fact there was a specific target that Jones was looking for.
"There was something that must have provoked this incident that perhaps occurred today or was building up to today.
"We are still trying to determine what provoked these attacks."
Police are now investigating rumours of a dispute between Jones and one of his co-workers, and searching the gunman's home to see if there are any other casualties. "Our biggest hope is that there are no other victims," Dyer said.
Valley Protein was closed yesterday after the attack.