Uefa have fined Lazio €140,000 for incidents including racial abuse in two Europa League games while Premier League side Tottenham Hotspur have been handed a €10,000 fine for supporters' disturbances in Rome.
In addition the Italian giants have had a ban of playing one match playing behind closed doors suspended for two years following a series of incidents during the Europa League games against Tottenham in November and NK Maribor in December.
The Slovenia champions have themselves been punished for insufficient match organisation and for supporters throwing missiles during the same game. The trio have three days after receiving Uefa's written reasons, in which to lodge an appeal.
Lazio's fine of €50,000 includes episodes of racial abuse, the use of fireworks and incidents of a non-sporting nature during the game with Maribor, while the throwing of missiles, fireworks, coupled with the late handing in of the team sheet and a delayed arrival to the stadium has contributed to a fine of €90,000 for the game against Tottenham.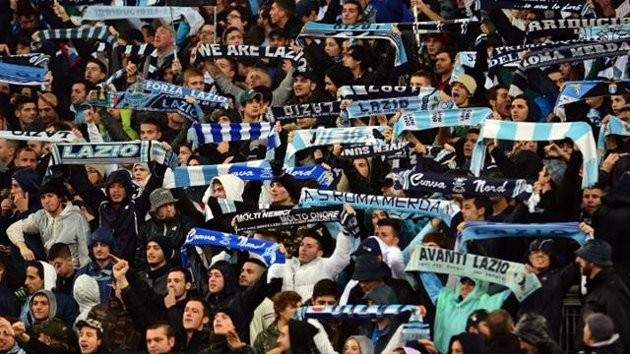 The game, a 0-0 draw in the Olympic Stadium, was marred by an attack on Spurs supporters the previous evening during which nine fans were stabbed.
The Serie A side, who face Borussia Moenchengladbach in the last 32 of this season's Europa League, have escaped playing a game behind closed doors, despite being fined €40,000 for racial chanting during the reverse fixture against Spurs in September.
The fine is the largest punishment handed out by Uefa's control and disciplinary body for an incident connected with racial abuse, however with the charge relating to a series of combined events, and the independent body refusing to specify which aspect of the fine relates to the chanting, it's unclear where the punishment represents the strictest fine seen for an act of prejudice.
After the Uefa board fined the Serbian FA €80,000 and ordered for one match to be played behind closed doors, European football's governing body appealed against the decision seeking greater clarity over the penalty, which included retribution towards the behaviour of players and supporters.
Football's governing bodies have been widely criticised for their weak stance towards racism in the game, with AC Milan midfielder Kevin Prince Boateng reacting to Fifa and Uefa's inadequate attitude by kicking the ball out of play and marching his teammates from the field during a friendly against Pro Patria in January .