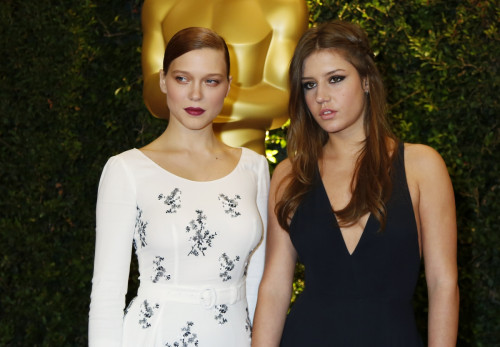 Star of the controversial but critically adored French romance Blue is the Warmest Colour has admitted that its explicit lesbian love scenes made her question her own sexuality.
Lea Seydoux, nominated for a Bafta Rising Star Award at the 2014 awards, made the admission during an interview with the Evening Standard.
Asked whether the intense scenes with co-star Adele Exarchopoulos made her question her sexuality she said: "Of course I did. Me as a person, as a human being. It's not nothing, making those scenes. Of course I question myself, but I did not have any revelations."
The actress, who has enjoyed roles in Woody Allen's Midnight in Paris, Quentin Tarantino's Inglourious Basterds and this year's The Grand Budapest Hotel, revealed that was deeply in love with a man, although she kept his identity secret.
"He's not an actor, he's not famous at all," said the 28-year-old. "He writes sometimes, he's good at philosophy. We met some time ago but neither of us was free. He has a very pure heart.
"I never believed in marriage but now I'm in love, I think maybe. We still need to believe in things – we need discipline. I don't believe in the religious side, but as a civil act – yes."
Speaking of her Rising Star nomination, which pits her against Best Supporting Actress hopeful Lupita Nyong'o, Seydoux said: "I'm very excited, I'm very proud. It's my first time at the Baftas."
Blue is the Warmest Colour won the coveted Palme d'Or at the 2013 Cannes Film Festival, and was expected to win this year's Best Foreign Film prize at the Oscars – but could not be nominated on a technicality.
Despite extremely positive reviews, the tender portrayal of first love courted controversy when the stars hit out at director Abdellatif Kechiche, saying that he made them feel like prostitutes during a 10-day sex scene shoot.
"I feel independent, maybe that's why I spoke," Seydoux said of the incident. "You know, I'm still very happy with the film. It was hard to film it and maybe people think I was complaining and being spoilt, but that's not it. I just said it was hard.
"I like to be tested. Life is much harder. He's a very honest director and I love his cinema. The way he treats us? So what."