'At least 22' killed, scores wounded as suicide bombers hit 2 bus stations in Nigeria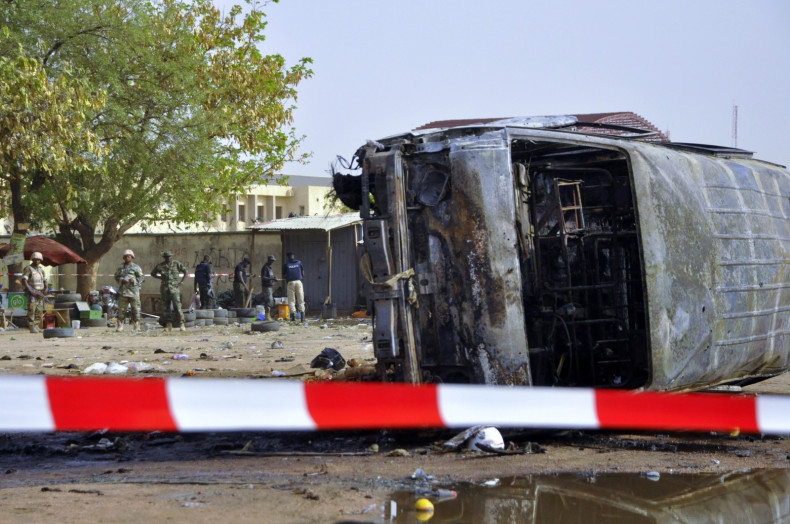 At least 22 people have been killed and scores more were wounded when at least three suicide bombers carried out lethal attacks at two bus stations in northern Nigeria.
The first blast, in the town of Potiskum, Yobe happened when a bomber rushed onto a bus before setting off a device, killing at least 12 and injuring 35, Al Jazeera reported.
A driver's union official told AFP: "The bus had just loaded with passengers on its way to Kano when a huge explosion happened inside the bus at exactly 11:40 am."
Local resident Waziri Danu told AFP he was in a car wash when the bomb went off and witnessed the aftermath of the explosion. "I and people around rushed to the place and we saw a bus engulfed in flames.... It is not likely if anyone in the vehicle has survived."
Potiskum has been a regular target for Boko Haram attacks, most recently on Sunday when the Islamist group used a girl thought to be as young as seven as a human bomb, blowing her up in a market and killing seven more.
Later, in Kano itself, two female suicide bombers are thought to have mingled with passengers at the bus station before triggering devices, killing themselves and at least 10 others.
Eyewitness Rabiu Madallah told Turkey's Anadolu Agency: "A whole busload just went up in flames; everywhere is in disarray."
Meanwhile US missionary Phyllis Sortor was abducted in Kogi State by "several persons."
Today's attacks are another setback for the strife-hit country as it prepares for an election on 28 March. The country was due to vote on 14 February but the election was delayed due to the continuing unrest in the north of the country where Boko Haram wants to create an Islamist state.
Today's attacks show that despite recent military setbacks inflicted at the hands of armies from neighbouring countries, the Islamist group are still capable of striking with deadly force - and usually aiming for the softest targets.