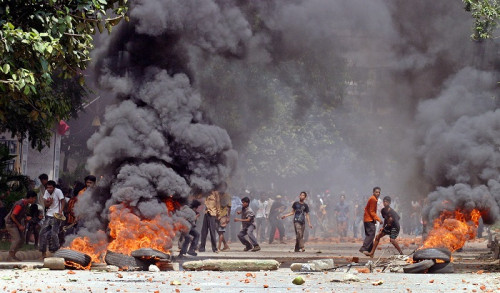 At least five people were killed in Bangladesh on Sunday as violent protests against the disputed general election spread across the country.
More than 200 polling stations were set ablaze as thousands of protesters firebombed streets and stole ballot papers following a boycott of the election by the main opposition Bangladesh Nationalist Party (BNP).
The BNP called a two-day nationwide strike on Saturday against the election, which party leader Khaleda Zia dismissed as a "scandalous farce".
More than 100 people had been killed before Sunday's violence, in clashes between opposition supporters and the 50,000 troops stationed around the country.
In the northern Rangpur district, two people died when police opened fire on protesters attempting to take over a local polling station. In Nilphamari district, police also shot at around two dozen protesters, killing two.
Mokbul Hossain, police chief of the northern town of Parbatipur in Rangpur, told AFP: "We were forced to open fire after thousands of them attacked us with guns and small bombs.
"It was a coordinated attack. They managed to seize some ballot papers and they were also trying to steal our weapons."
On Saturday, a ruling party official was shot dead in the south-western city of Khulna, while a party youth activist was killed in clashes with BNP supporters in the north-western Lalmonirhat district.
The ruling Bangladesh Awami League party has accused the BNP of orchestrating the violence and has placed its leader Zia under de facto house arrest, with riot police and water cannon stationed outside her Dhaka residence. However, the government denies restricting Zia's movements.
Prime Minister Sheikh Hasina has rejected calls to step down in favour of a neutral interim government to oversee the election, as has been the practice in previous years.
There is no voting at all in around half of parliamentary constituencies in Bangladesh, as the opposition boycott has led to government candidates being declared winners in advance.
One polling station in Dhaka's Mirpur district reportedly recorded just 25 ballots out of 24,000 registered voters within the first two hours of voting.