The family of murdered British soldier Lee Rigby has attacked Britain First for invoking the Fusilier's memory during a broadcast for the London Mayoral election. Paul Golding, mayoral candidate and leader of the Christian right-wing group, was shown standing at the spot where Rigby was killed as he spoke of his party's fight against Islamic extremism.
"We have come here to Woolwich, the spot where Lee Rigby was butchered, and they still have not put a memorial on this spot to that poor young man," Golding said during the broadcast shown on ITV and the BBC on Wednesday (20 April). "Right after that happened several years ago on this spot our activists waged a campaign to shut down and suffocate the activities of Islamic extremists in London."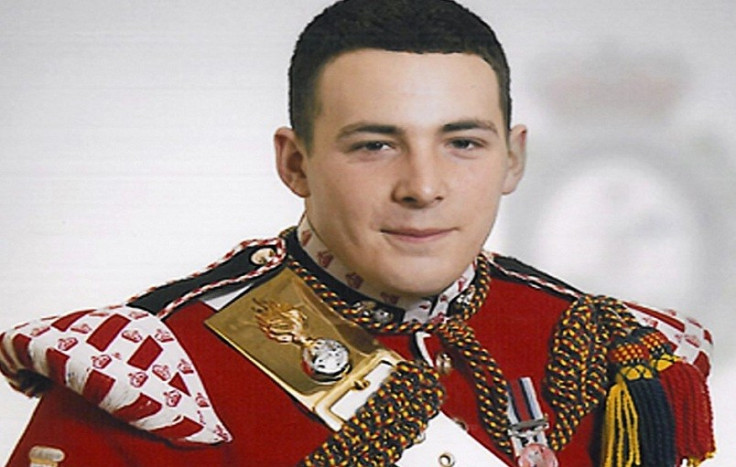 Rigby's mother, Lyn, responded to the video denouncing Britain First and pleading with it to stop using her son's name during its campaigns.
"The family have always said that Britain First's views are not what Lee believed in and they have absolutely no support from his family," she said in a statement. "We have repeatedly asked Britain First and other political parties not to use Lee's name to promote their views.
"Britain First also claim that there is no permanent memorial to Lee at the site of his death. There is a permanent memorial to Lee at St George's Chapel in Woolwich, which is what we wanted."
Lee Rigby was stabbed to death in May 2013 by Michael Adebolajo and Michael Adebowale near the Royal Artillery Barracks in Woolwich, southeast London. Adebolajo was sentenced to life imprisonment, while Adebowale received 45 years.
In 2014, the Electoral Commission apologised to the Rigby family after it allowed Britain First to use the slogan "Remember Lee Rigby" on ballot papers during the European elections in Wales.
Last month IBTimes UK also reported how the group were banned from using "Keeping London British" as a slogan for its mayoral election campaign after it was deemed offensive. The party since revealed the BBC and ITV had asked it to make changes to its election broadcast when it tried to use footage of its activists confronting those it claimed were "hate preachers" and "Islamic terrorists".
It accused both broadcasters of being "Soviet commissars", saying they had "thrown all manor of obstacles in our way and ask for endless modifications".
IBTimes UK has contacted Britain First for a comment.