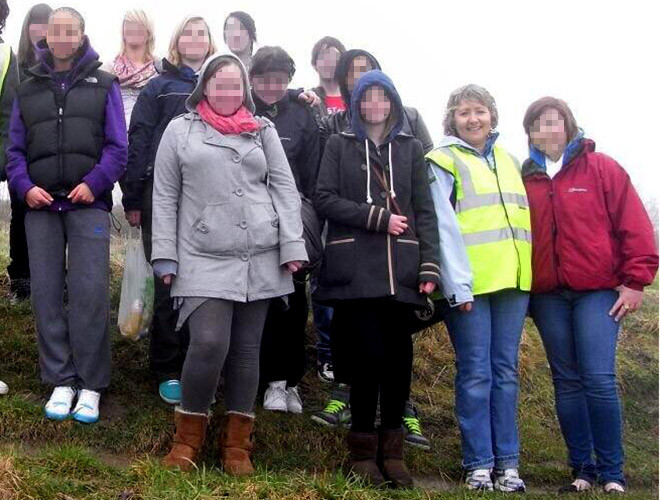 Tributes poured from students of teacher Anne Maguire after she was stabbed to death by a teenager inside the school where she worked in Leeds.
Young pupils of Maguire who knew her as head of year 11 at Corpus Christi Catholic College said she was "helpful and caring."
Reports indicate the attacker launched a frenzied assault on Maguire by stabbing her several times at the college, which proclaims a strong Christian ethos.
Maguire, 61, taught Spanish there and she was hailed on Twitter for her lessons by youngsters who attended the college in Yorkshire.
Police arrested a 15-year-old boy at Corpus Christi college in relation to her killing. Maguire had a career in teaching spanning 40 years.
Nathan Mulenga, 18, said Mrs Maguire was "the best teacher in the world."
"Miss Maguire taught me Spanish for five years while I was at the school and she was such a great teacher. She also taught religious education and she was my head of year at the school," he told the Daily Mail.
"When I left in 2012 she always said she would help me and my friends in the future if ever we needed anything.
"I went to college after leaving the school and she was the one who gave me a reference. she cared about everyone even after they left school. It's absolutely devastating to hear that she's gone."
Maguire was described as the "heart of the school by another pupil."
Emergency services which rushed to the school in Neville Road, Leeds, took Maguire to hospital at around midday. But she was pronounced dead soon afterwards.
Police said there was no ongoing risk to safety at Corpus Christi college.
Kerrianne Ayward, 17, said: "She was just lovely. She was helpful and caring and you could have a laugh with her.
"She was always there for you, even if she didn't know you very well. No one had a bad word for her - I mean no one.
"There's no one else you would go to who's better," she added. "She was the heart of the school."
On the website Rate My Teacher, Maguire was praised in three reviews by pupils, including one which claimed she: "Can be very strict."
Downing Street said PM David Cameron's was thinking of Maguire's family as they deal with the news she will not return home from a day at work which surely began in the same way as so many before it.
The prime minister's official spokesman said: "The Prime Minister's thoughts are very much with the victim's relatives as well as the entire school community there, which I'm sure will be deeply shocked."
Hilary Benn MP, who represents Leeds Central for Labour, said: "Our hearts go out, above all, to the family of the teacher. But also to the staff and pupils of the school."
On Twitter, pupils who had known her hailed the woman and and spoke of their shock at her death.