A former brewery-turned-nightclub was the latest unlikely location to launch a pro-EU campaign ahead of the long-awaited referendum. The venue, now called 93 Feet East, hosted 'Another Europe is Possible' as the newly formed left-wing group railed against the "scaremongering" of David Cameron and Britain Stronger in Europe among the hipsters and street food of Brick Lane on 10 February.
The east London event, attended by IBTimes UK, saw speeches from the SNP's Europe spokesman in Westminster, Stephen Gethins, and Plaid Cymru's Hywel Williams MP. But Former Green leader Caroline Lucas outdid her Westminster colleagues by raising the loudest cheers from the activists.
"Like Westminster, EU institutions are not perfect. The EU must become more democratic, and more accountable to the citizens of Europe. But to secure these changes, we need to stay in the EU and fight for meaningful reform. Another Europe is Possible – but only if we make it so. That's why I'm excited to be part of this campaign," the Brighton Pavilion MP said ahead of the get-together.
Syriza UK activist Marina Prentoulis also addressed the packed room. The left-winger acknowledged the treatment of the Greek government by EU grandees during the country's debt crisis. But Prentoulis argued that socialist-minded voters should back a 'remain' vote at the referendum in a bid to stay in the 28-nation-bloc and influence policy leftwards.
Another Europe is Possible, which also enjoys the support of "Corbynomics" guru Richard Murphy, wants to make a "positive, progressive" case for the EU. The organisation is against the "project fear" tactics from both sides of the EU referendum debate and wants a so called "social Europe", which promotes workers' rights.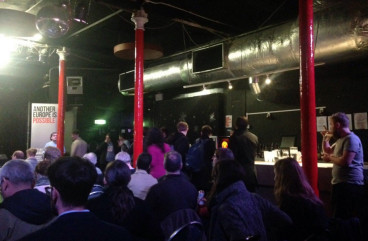 The event came just hours after Liberal Democrat leader Tim Farron launched his party's pro-EU campaign at the Bounce ping-pong club in London.
The left-winger also attacked the prime minister's threat of makeshift refugee camps appearing in England after a Brexit.
"The leave campaign will play nasty, and it seems people on our own side will engage in a nasty race to the bottom on immigration, migration and refugees. But as Liberal Democrats, I will not stand for it," he declared.
However, Farron did warn that the NHS could be put under further pressure if the UK broke away from the EU. Cameron is yet to set a date for the referendum as he continues his renegotiation with the EU. But the prime minister is expected to hold the historic ballot on 23 June.
The latest opinion polls, from ICM and YouGov, have put 'leave' ahead. The former survey, of more than 2,000 people online between 5 and 7 February, gave a Brexit vote a one point lead (42% versus 41%). The latter poll, of more than 1,600 people online between 3 and 4 February, put 'leave' on 45% and 'remain' on 36%.