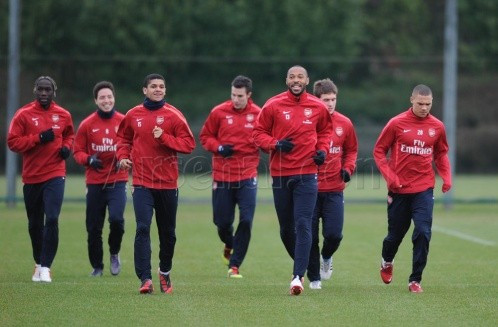 Thierry Henry would be the perfect signing for Arsenal, according to club legend Martin Keown, with the superstar currently training with the team in the MLS off season.
Henry is one of Arsenal's best players in the history of the club, and the striker netted the ball 226 times between 1997 and 2007. And the 34 year old has always been open about his continued affinity with the club, despite moving to Barcelona and then the New York Red Bulls thereafter.
And according to Keown, the man who has been touted as one of the most successful imports into the Premier League would be a fantastic back-up for Robin van Persie as the season wears on.
"We trust in Wenger [on any new signings]," Keown told Metro Sport.
"Perhaps we need a centre forward. [Thierry] Henry is now training with the team and it'd be nice if he came in on a loan period, but that would only be a short term solution.
"There's a lot on Van Persie's shoulders. It's not about one player, but he's scoring the goals, and we need another goal scorer."
Arsenal suffered their worst start to the season in over 50 years, with the club toppling down the table after the loss of Cesc Fabregas and Samir Nasri. And after losing to Manchester United 8-2 the day before deadline day, the club set about making big changes, including making five signings in the last 24 hours of the summer transfer window in the hopes of turning their season around.
The fresh faces seem to have done the club a huge favour, though van Persie and Theo Walcott have been attributed as the main culpruts who brought the Gunners' season back to life.
And now, as the side push for a top four spot, Keown has argued that with time, the squad have recovered from their difficult period, and are more resolved than ever.
"They've come to terms with the nightmare result at Old Trafford," Keown explained.
"The team have really gelled, and Wenger's had time to work with the new signings and I think he's chosen well.
"There are some good characters there. [Per] Mertesacker is a real leader type, and [Mikel] Arteta is also a very mature player, which you need among a group of youngsters.
"I don't think there was enough in the past, but also Van Persie has been a different class.
"Him being captain has given him that extra bit of responsibility. Every time he picks up the ball he's trying to do something with it, and invariably he does."