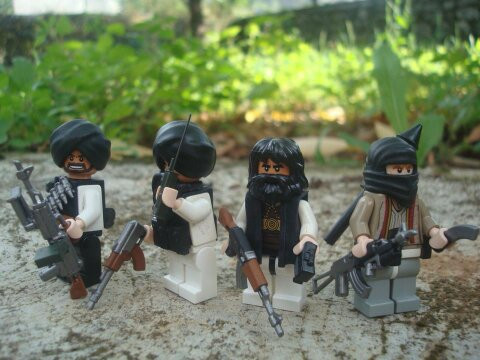 Far-right extremists gloated with images of Lego Taliban figures after a Muslim fun day at Legoland was cancelled.
The images formed part of an outpouring of glee, spearheaded by EDL splinter group Casuals United, which greeted news a fun day for Muslim families at the theme park in Windsor been pulled, following a campaign of threats and intimidation against it.
Opponents of the event - dubbed "halal entertainment" by oragnisers - posted jihadi fighter versions of the much loved children's figures on social media. They are grasping heavy weaponry and have grenades strapped to them.
The composite 'Lego Taliban' figures certainly will not be found in the smash hit Lego film currently in cinemas.
The cancelled event was planned by the Muslim Research and Development Foundation and was controversial because its leader, Haitham al-Haddad, has a history of anti-Semitic comments. Anti-Muslim tweets and threats of violence on social media forced the decision, which was made in consultation with Thames Valley police.
Legoland said it was "appalled" at pulling the plug on the event. Police are investigating a number of offensive messages.
A spokesperson for the theme park said: "These alone have led us to conclude that we can no longer guarantee the happy fun family event which was envisaged, or the safety of our guests and employees on that day – which is always our number one priority.
"Sadly it is our belief that deliberate misinformation fuelled by a small group with a clear agenda was designed expressly to achieve this outcome. We are appalled at what has occurred, and at the fact that the real losers in this are the many families and children who were looking forward to an enjoyable day out."
The event was also opposed by a Ukip councillor in Windsor. Cllr Tom Bursnall told IBTimes UK his constituents feared violent clashes if far-right groups descended on Windsor to protest the fun day. He said: "I do not think it's good business practice for them [Legoland] to be dealing with people like [al-Haddad] who said some pretty repugnant views."
A Thames Valley Police spokesman said: "[officers are] investigating reports of offences committed under the Malicious Communications Act (1988) in connection with offensive messages posted on social media regarding a private planned event by the Muslim Research and Development Foundation (MRDF) at the Legoland site in Windsor.
"The owners of Legoland subsequently made the decision to cancel the event in consultation with the MRDF.
"As there is an ongoing police investigation it would be inappropriate for us to comment further."