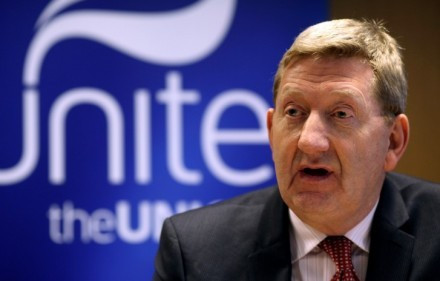 Labour leader Ed Miliband stood accused of orchestrating a "smear campaign" by the leader of his party's biggest donor as a war of words broke out over allegations that the Unite union had sought to install its own candidates in safe Commons seats.
Len McCluskey, head of Unite, which has given Labour more than £8m since 2010, said he had no trust in the party's internal report into the claims. He called the report a stitch-up.
McCluskey denied there had been any attempt by Unite to influence the selection by packing the local party with its own members, calling the inquiry "a disgrace".
Miliband's election chief Tom Watson quit the shadow cabinet after becoming embroiled in the rigging allegations. Watson's office manager, Karie Murphy, has been suspended over allegations that she received improper backing as the union's favoured candidate to contest the seat of Falkirk, Stirlingshire, at the gerneral election.
Watson once shared a flat with McCluskey, who is also close to Murphy.
The scandal has threatened to engulf Miliband and enabled David Cameron to land a series of blows on him at Prime Minister's Questions.
In a letter to Labour's general secretary, Iain McNicol, McCluskey said his union had "nothing whatsoever to do" with attempts to sign up about 100 members to the constituency party and pay their subscriptions.
"The report has been used to smear Unite and its members," he said. "It is noteworthy that members of the shadow cabinet have been in the lead in initiating this attack."
Milband's 'biggest test'
McCluskey demanded an independent investigation into what went on in Falkirk, saying that Labour's investigation was designed to "produce some evidence, however threadbare, to justify pre-determined decisions".
He added: "The mishandling of this investigation has been a disgrace. I, however, am obliged to uphold the integrity of Unite, and I can no longer do so on the basis of going along with the activities of a Labour party administration in which I can place no trust."
McCluskey stopped short of threatening to withdraw funding from Labour, but insiders suggested that could happen of the union were denied a second inquiry.
The row has become a test of Miliband's leadership, presenting him with his most serious challenge to date in what was a "battle for the future complexion and direction" of the Labour Party, said commentators.
Watson had pressed for the party to adopt a "more working class, less Blairite image", according to reports.
Along with Murphy, Labour also suspended Falkirk party chairman Stephen Deans and assumed direct control of selecting the candidate for Falkirk. They said the pair may have been involved in potential abuse of membership rules.
Miliband also closed down the scheme allowing unions to sign up party members and pay their fees.
He said: "I am not going to have abuse of membership procedures and parliamentary selections in my party. I want to be clear about that to the leadership of Unite the union in particular."
It remained unclear whether Labour would publish the report, as Watson urged in his resignation statement.
"It is noteworthy that members of the shadow cabinet have been in the lead in initiating this attack upon Unite. Have they had sight of this report while I, the leader of the union put in the frame, has not had the courtesy of a copy?" he said.
"Even if the allegations of people being signed up to the party without their knowledge were true, this had nothing whatsoever to do with my union."