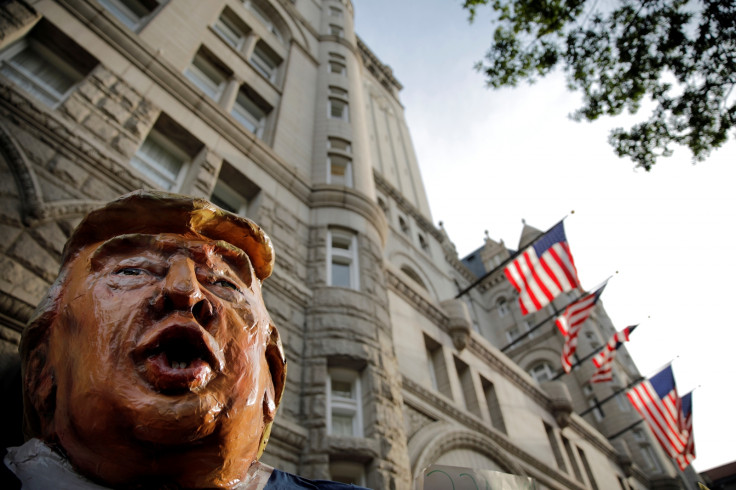 President Donald Trump held his first re-election fundraiser on Wednesday night that raked in an estimated $10m at the Trump International Hotel, just a few blocks away from the White House in Washington D.C. The closed-door, $35,000-per-plate donor event, held just five months into his presidency, drew fierce criticism and concerns over conflict of interest and Trump's continued financial interest in his international real estate and branding empire.
As the presidential motorcade arrived at the venue, Trump was greeted with furious cries of "Shame! Shame!" from protesters outside with many hoisting signs criticising the president's numerous policies, including healthcare and the US-Mexico wall. The media was barred from attending the event.
Funds raised at the event will go towards Trump's 2020 re-election campaign, the Republican National Committee (RNC) and various other Republican entities.
Last week, nearly 200 Democratic lawmakers filed a federal lawsuit accusing the president of violating the Foreign Emoluments Clause of the Constitution by profiting from foreign payments through his business empire without the consent of Congress.
Norm Eisen, the former top White House ethics lawyer from ex-president Barack Obama's administration, slammed the fundraiser in a series of tweets as "illegal."
"Trump Hotel fundraiser is illegal. His benefitting from leasing this US property violates the domestic emoluments clause of US [Constitution]," Eisen tweeted. "And the government's refusal to enforce hotel lease term which prohibits him from operating hotel ALSO makes 2nite an illegal emolument.
"So anytime he profits from the hotel, as he is doing tonight, he is violating the domestic emoluments clause. Trump monetizes his office constantly. But tonight a new low: he's collecting cash from being president, from hotel, & from his party."
Twitter erupted, with most condemning the president's decision to host his campaign fundraiser at his own hotel saying he is flagrantly monetizing his position and violating the Constitution.
While many voiced outrage over the serious conflict-of-interest issues it raises, others expressed their disappointment and feelings of hopelessness that the issue will not be properly addressed.
"So is there an ethics lawyer at the White House? AT ALL?" one Twitter user wrote. Another person tweeted: "He will have fleeced America by the time he's impeached two years from now."
"Why are we talking about 2020 already? My stitches from 2016 haven't even been removed yet," one user tweeted.
Some speculated that the fundraiser will raise funds for legal fees amid the ongoing federal investigation into Russian interference in the 2016 presidential election and alleged collusion between Trump's campaign and Moscow.
Andy Lassner, executive producer of The Ellen Show, tweeted: "Congrats to everyone who bought $35,000 plates at Trump's 'fundraiser' tonight. You just pissed away money to pay for his defense lawyers."