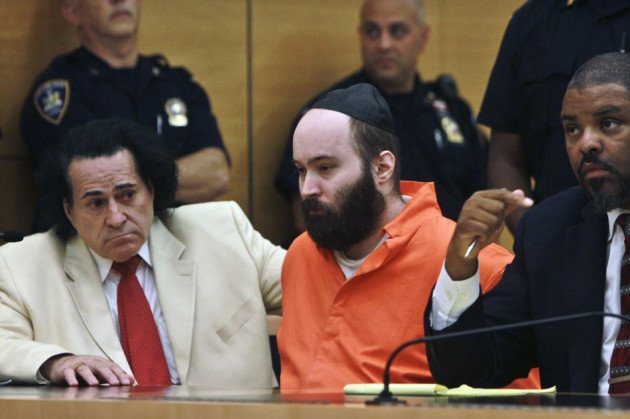 A New York man who kidnapped, killed and dismembered an 8-year-old boy has been sentenced to at least 40 years in prison.
Levi Aron, 37, smothered Leiby Kletzky to death thirteen months ago, after abducting the young Hasidic Jew on his way home from a religious day camp in Brooklyn - home to one of the world's largest Orthodox Jewish communities outside Israel.
Leiby's dismembered body parts were discovered in and around Aron's flat on 13 July 2011, 33 hours after his disappearance. Detectives initially discovered his severed feet in the freezer, alongside a chopping board and three bloody carving knives, before finding the rest of his dismembered body in a suitcase in bins near the flat.
According to medical examiners, Leiby's death was caused by drugging and suffocation.
Aron pleaded guilty two weeks before his sentencing to second-degree murder, a lesser charge that would spare him a criminal trial and the possibility of facing life without parole.
The former hardware store clerk admitted kidnapping Leiby when the boy, who had gotten lost on his way home, approached him in the street and asked for directions.
He revealed that he had promised Leiby that he would take him home, but didn't, instead taking him to Monsey, New York, where Aron attended a wedding. He then brought Leiby back to his flat, where they watched television together before going to sleep. The following day Aron went to work, leaving the boy alone in his home.
Aron eventually started to panic when Leiby's parents began posting fliers with the boy's photo on lampposts in the Orthodox Jewish area of Borough Park. When asked by the judge what he planned to do when the panic set in, he simply replied: "Smother".
Aron's attorneys had planned to mount a defence that their client was not guilty by reason of mental defect, claiming he suffered a head injury as a child that went untreated.
The Associated Press obtained a report that described Aron as having adjustment and personality disorders, with schizoid features. In the report, Aron's predominant mood is described as "neutral, practically blank".
Attorney Howard Greenberg, speaking outside court, said a public apology from Aron would seem false.
"As a child and a young man, he should have been treated for his mental illness," he added.
Although Leiby's family did not attend the sentencing, a statement was read by prosecutors on behalf of the father, Nachman Kletzky.
"God did not abandon our son, nor our family, for one second. There is no way one can comprehend or understand the pain of losing a child. Esther [Leiby's mother] and I faced this unspeakable tragedy last year when our little boy was ruthlessly taken from us...a day doesn't pass without our thinking of Leiby, but today we close the door on this one aspect of our tragedy and seek to remember only the gifts that God has bestowed."