Lexus has shown us landlubbers that it doesn't just do luxury on the road by revealing a high-tech, high-performance sport yacht influenced by the styling and engine power of its sports cars.
The unveiling of the Lexus Sport Yacht took place in the decadent surroundings of Miami Beach, Florida where IBTimes UK was invited to step on-board to take an exclusive peek of its motoring and maritime innovation.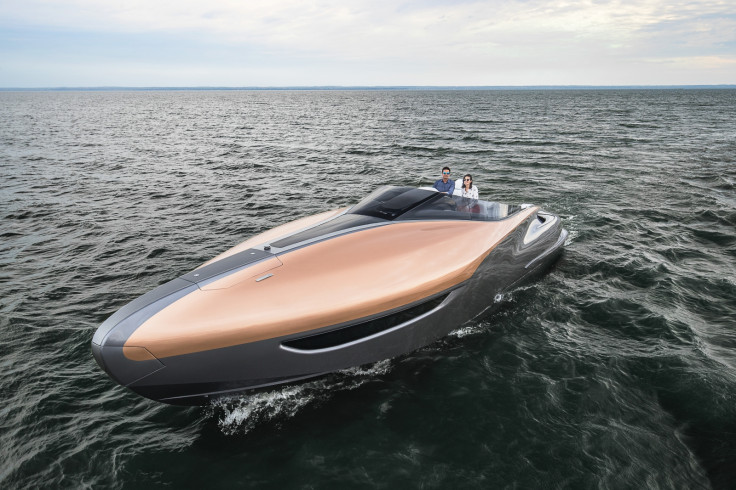 The two-tone, open-top day tourer is as sleek and polished as any Monaco-residing oligarch or Bond villain could desire with a finish that's undeniably premium, impressively plush and typically Lexus. On the open water the 12.7 metre long boat looks like something that's been Photoshopped into real life as a result of its splashy, concept design.
"For the Lexus Design Centre this project has been very exciting. The effort is valuable to us as it stirs our creative energies and pushes our imagination to design for lifestyle possibilities outside of the automotive realm we know well," said Yoshihiro Sawa, executive vice president of Lexus International.
Where car-meets-boat is in the construction of the structure of the hull where the outer hull is bonded seamlessly with the inner frame with one large piece of composite material consisting of carbon-fibre reinforced plastic. This is the same structure used in the Lexus LFA as well as some aircraft and skis. As well as sounding rather clever, this manufacturing process means it weighs in at nearly 1000kg lighter than similar fibreglass yachts.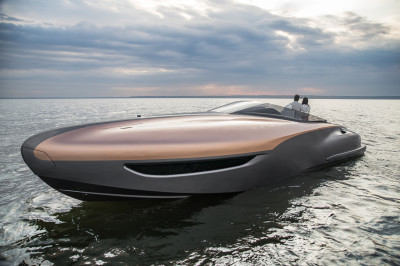 Visible through a glass enclosure at the stern, it's powered by twin 5-litre V8 engines based on those found in the Lexus RC F coupe and new LC 500, producing over 885hp in total for a top speed of 49mph (43 knots). On-board a large colour touchscreen on the dash as well as another on the steering wheel provides all the essential information of GPS, surface radar and underwater sonar. It also controls the yacht's Mark Levinson-tweaked entertainment system, which its eight passengers living it up on the Lexus leather clad seating can enjoy.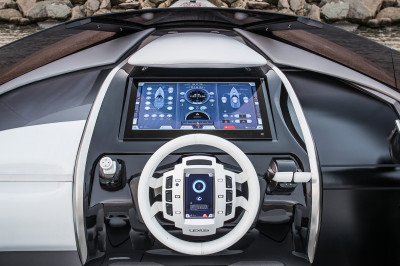 Toyota – which Lexus is a division of – is no stranger to the boating world with its own maritime department launched back in 1997, and that has already been borrowing advanced technology methods from the design of its luxury cars to create its boats. But, don't hold your breath in anticipation of seeing this on the water anytime soon. The Sport Yacht is a bespoke, one-off project intended to see how Lexus' luxury can be pushed into other lifestyle arenas with no production intent.
As Lexus continues to reinvent its brand and push luxury into other aspects of life it's not yet ventured in, this opulent Sport Yacht might just be a drop in the ocean over the next 18-months.
Just don't call it the Japanese Sunseekser.