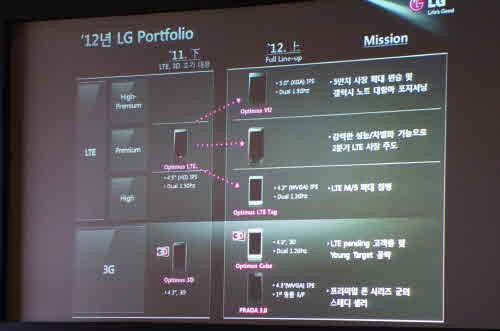 Samsung has remained tight-lipped about its upcoming Galaxy S3 features and release date. Tech fans could expect striking features which include 4.8-inch display, faster processor and 12-megapixel camera.
After a splendid success of Galaxy S2, S3 promises to set the stage on fire. It could face stiff competition in the smartphone market.
According to DDaily, LG could be getting ready to introduce its new flagship smartphone to rival Samsung Galaxy S3. While, the Galaxy S3 is expected to launch in June, LG aims to come up with its new smartphone in May.
The smartphone which is simply given a codename D1L will flaunt a 4.7-inch HD LCD display with a resolution of 1280x720 pixels. The device will run on the latest Android 4.0 Ice Cream Sandwich (ICS) operating system. Moreover, it will be the first ICS smartphone of the company. The smartphone will be powered by Qualcomm MSM8960 chipset and will offer 4G LTE connectivity too.
"D1L phones are developing a project that's right, cannot give more information," said an LG Electronics official. Possibly, LG D1L could rival Galaxy S3. Samsung's Galaxy S3 is expected to come with 4.8-inch display which could be powered by 1.5 GigaHertz Quad-core CPU and Exynos chipset.
According to rumours, it could come with a whopping 12-megapixel rear-facing camera with a full support for HD video recording of 1080p. While the D1L will run on the Android 4.0 ICS, even the Galaxy S3 is rumoured to feature the latest ICS.
If the rumoured features of the Galaxy S3 turn out to be a real, then one can expect fierce competition between both the smartphones. But, so far LG has not able to match the success that Samsung has seen.
Possibly, Android fans can go for Samsung smartphones as the predecessor of Galaxy S3 has made a big hit. LG has not made any official declarations about the product's name. However, LG has taken the plunge by introducing a high-end smartphone which could help it to easily compete with the still-unannounced Samsung Galaxy S3. All one can do is wait for the launch of LG's new smartphone.