Pride in London: LGBT couples to replace green 'walk' symbol on traffic signals in Trafalgar
The green man that appears on traffic lights at some pedestrian crossings in London will now have a new transgender symbol to mark the celebrations of the upcoming LGBT (lesbians, gays, bisexual and transgender) festival.
The traffic lights went live on 19 June, and includesame-sex partners holding hands to make a heart between them.
A total of seven unique symbols, including the widely recognised transsexual or transgender symbol, will be installed at around 50 pedestrian traffic signals in the Trafalgar area in London. The symbols were designed with Transport for London who is an official partner of the Pride in London event.
The move, backed by the new mayor of London, Sadiq Khan, is not only dedicated to gay pride, but will also be a means to pay tribute to the victims of the Orlando nightclub shooting on 12 June. Khan said the new measure is a symbol of solidarity for the gay community.
Khan said: "One of the greatest things about this city is our differences and every Londoner should be proud of who they are. I am very proud of our LGBT+ community here and I am looking forward to working closely with them as their Mayor.
"Our thoughts and prayers are of course still with the families and friends of the victims of the hideous recent attack in Orlando. These new signals show that we stand shoulder to shoulder with them and display the tolerance and celebration of difference in our city."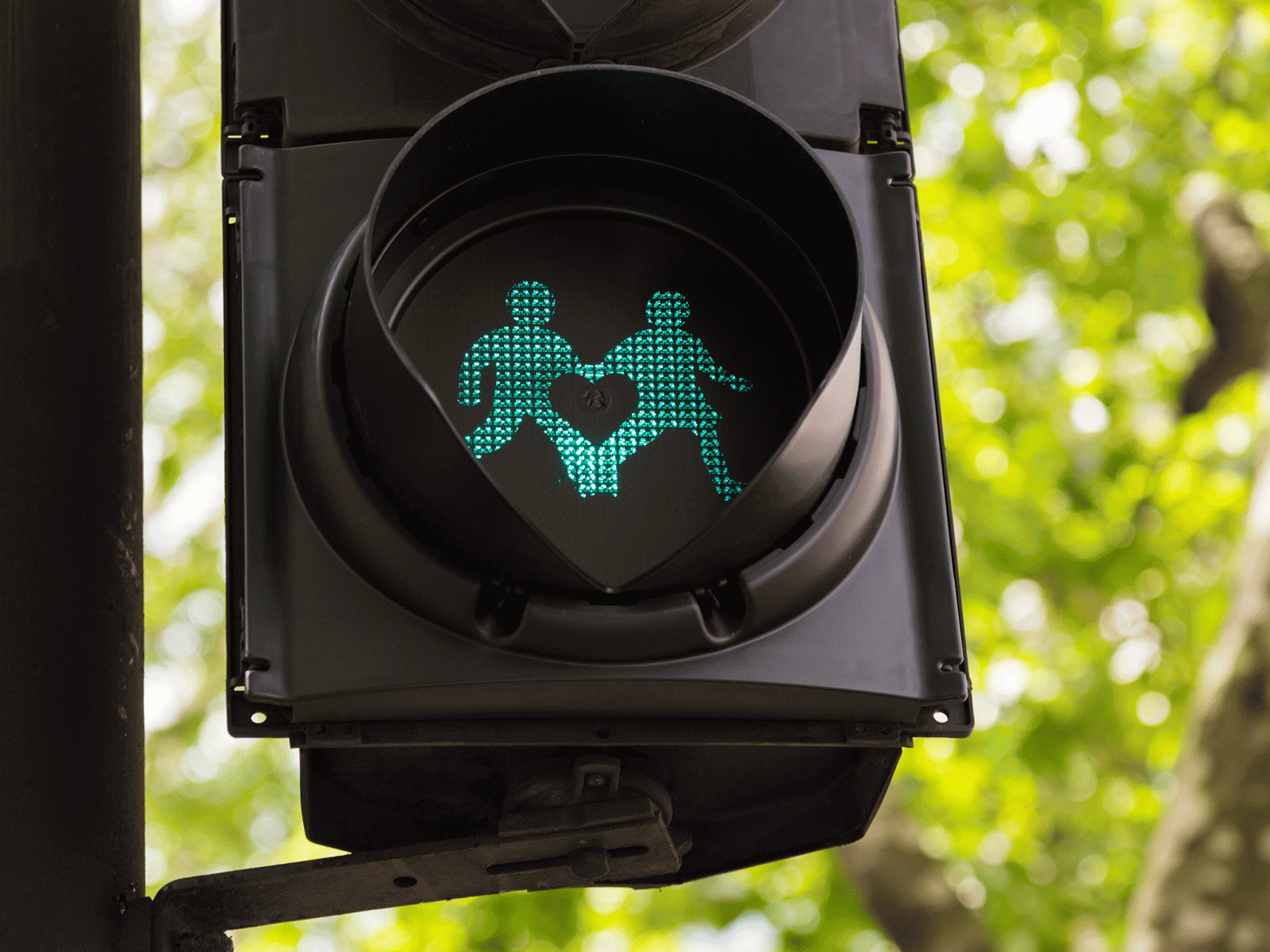 A spokesperson for LGBT charity Stonewall said they love the new traffic signs and that more similar initiatives need to be taken across the UK. "We love the new traffic signs. They show how simple acts can make a big difference, making diversity visible and celebrated in the everyday fabric of our communities," The Huffington Post quoted the person as saying. It would be amazing to see more initiatives like this, not just at Pride season but all year round, and not just in London, but all across the UK."
Alison Camps, Director at Pride in London, said: "It's fantastic that London is a city so keen to celebrate Pride that even traffic lights can be used. This small symbol is a big gesture from the Mayor of London and TFL, and we're delighted to have their support. For many people acceptance and tolerance is a luxury they don't have, and these lights are another display of how welcoming and accepting London is. Our campaign this year is called #NoFilter, letting people live their lives as they want to. These lights are a perfect display of that, saying that our city recognises each and every one of us for who we are."
Martyn Loukes BEM, chairman of OUTbound, TfL's LGBT+ Staff Network, said: "We are incredibly grateful to all of our partners who have worked together to make these special diversity pedestrian signals for our Capital. This illustrates TfL's support for the LGBT+ community and London's diverse population. I am proud, as a gay Londoner that we are unveiling this now following the recent tragic events in Orlando and our thoughts are with all those affected."
Tom MacMorran, General Manager of Siemens' traffic operations said: "We're delighted to have been able to support TfL with the manufacture and installation of these special signal designs. Diversity and inclusivity is very important to us and our employees, and this is a great example of where simple ideas can have a significant impact. We join TfL in sending our thoughts to those affected by the Orlando events."
© Copyright IBTimes 2023. All rights reserved.