Nick Clegg has said the Lib Dem chief secretary to the Treasury was merely "being polite" after meeting a fake businessman who allegedly gave the party a potentially illegal donation.
Ibrahim Taguri, the Lid Dem's former chief fundraiser, has quit the party over claims he discussed with an undercover reporter how to bypass party donations laws.
Taguri, who was due to stand in the Brent Central election, reportedly told the Daily Telegraph journalist posing as an Indian businessman he could give more money to the party by pretending some of the cash came from family members and by backdating cheques so it appeared it came from a previous time.
Taguri told the fake businessman the £7,500 ($11,250) cheque he handed over would help "open doors" for him, the Daily Telegraph reported. The undercover reporter was later introduced to a series of high profile Lib Dem figures, including Treasury Chief Secretary Danny Alexander.
During the undercover sting, Alexander was filmed shaking hands with the fake donor, adding he was "very, very grateful" for his donation.
"It genuinely will make a difference to the results of the election," he added.
Clegg has now dismissed suggestions Alexander has done anything wrong as "categorically untrue" and said the party has not received or banked any cheques from the fake businessman.
During his weekly LBC radio phone in show, Clegg was played a clip of Alexander meeting the donor by presenter Nick Ferrari.
Responding to the clip, he said: "All you've played on the clip is Danny being a polite guy and saying 'thank you' to someone he is being told is supporting the party. The idea that Danny or any parliamentarian has done anything wrong is categorically untrue."
He added: "Are you seriously saying that politicians like Danny Alexander are now forbidden from thanking and being polite to people they are told [are supporting the party]?"
Clegg said the £7,500 cheque handed over by the fake donor has not been received by the party.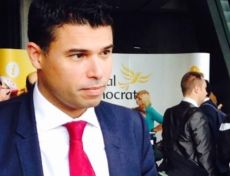 He said: "No cheque has been cashed. If we had received this cheque in question then of course it would have been scrutinised.
"My understanding this morning is that this cheque is somewhere in Brent, but it's not been received by the Liberal Democrats.
"We asked, last summer, the Electoral Commission to come into the Liberal Democrat headquarters to vet and audit the way in which we check these payments. They said that the way we do so is sound and satisfactory."
Lord Ashdown, head of the Lib Dem election campaign who also met with the businessman, added the party have done "absolutely nothing illegal or improper".
He told BBC Radio 4's Today programme: "We have not received any cheques, we have not accepted any cheques, we have not banked any cheques and before any of those things would have happened the most rigorous checks would have been carried out as required by law and as we've consistently done on every other occasion."
Ashdown added it is "commonplace" for donors to meet with senior party members and any suggestion "anything more than that happened on this occasion is wrong".
Taguri said he is confident he will be "exonerated" of the claims and will still stand as a parliamentary candidate for Brent Central as an Independent.
A Lib Dem spokesperson said: "Ibrahim Taguri has rightly stood down as the Liberal Democrat candidate for Brent Central and from any formal role within the party.
"We have now referred this matter to the Electoral Commission to determine whether any wrongdoing has been committed."