Liberal Democrat conference: Norman Lamb's full speech on the threat to the NHS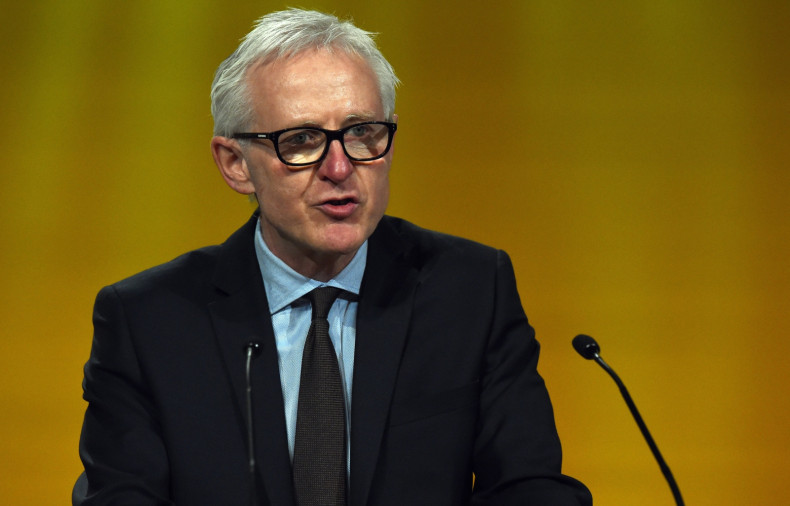 NB: This is the press released version of Norman Lamb's speech and may differ from his delivery at the Liberal Democrat annual conference on 22 September.
Can I start by offering sincere thanks to everyone who supported me in the leadership election. And to those who didn't - I bear no grudge!
I must be honest, the weekend after the general election, I went through internal torture trying to decide whether to stand. But I'm so glad I did.
Travelling across the country to take part in hustings - all 27 of them - and speaking to so many members - and so many new members - was a real honour. It was lively, it was energetic and it was upbeat – testament to the true spirit of Liberal Democrats.
And I felt totally liberated. I just spoke from the heart, said what I believed!
I'm genuinely humbled to have received the backing of so many of you. Thank you.
And I want to repeat my sincere congratulations to Tim. Tim, you will have my complete support. At a time when the Liberal voice has been diminished, it is needed more than ever. Together we will fight to rebuild our party and to promote Liberal values.
I've even agreed to join Tim on the Federal Policy Committee - that is the extent of my sacrifice and commitment!
But before I talk about the future, I also want to pay tribute to Nick. He served our country so well, guaranteeing stability at an acutely dangerous period economically, and he delivered Liberal priorities in Government for the first time in the post war period.
And I would like to offer a personal reflection. I spent the last 2 and a half years on a mission, fighting for justice for those suffering mental ill health.
To have a real champion, right at the heart of Government meant so much.
THE WELFARE STATE AND NHS AND CARE
The welfare state and the NHS are great Liberal achievements.
Both face a massive threat under the Tories.
On welfare, we have to come up with a Liberal, progressive response to the Tories. We cannot simply oppose. They will win the argument by default.
Let's look to William Beveridge, that great Liberal, the architect of the welfare state. He talked of the importance of contribution, of personal responsibility, of combatting dependency. But also of protection and of help for people to get into work.
The welfare budget is vast. Is it not possible to use some of it more creatively to ensure, for example, that those who are out of work with mental ill health get support straight away to help them recover, rebuild their self-esteem and get back to work?
We need a new Beveridge Report for the 21st century.
THE NHS AND CARE
Now in the period since the election, the NHS and our care services have been largely out of the headlines. But be in no doubt about the pressures. I want to spend a little time just to set out the scale of the challenge.
Health and social care is unique in that, across the developed world, costs just keep rising inexorably year on year - by about 4% a year.
New breakthroughs in medicine and in surgery, our ability to help people survive cancer and other illnesses which in the past would kill. This is a good thing. It's a triumph of mankind's ingenuity.
The impact is dramatic. In a ten-year period up to 2019, the numbers of people living with three or more long term conditions will increase by more than 50% - and then keeps on increasing. We will see a doubling of the number of people living to the age of 85 by 2030.
And this translates into massive challenges for families - loved ones living with dementia, diabetes, poor mental health.
The effect is that the cost of caring for people keeps taking a bigger and bigger proportion of taxation. Just in order to protect NHS spending, everything else gets cut disproportionately. And yet protecting NHS spending is not enough to keep pace with need.
So this constantly increasing pressure, more people in need of care, is why we are expecting a funding shortfall of £30bn by 2020.
The Tories have promised £10bn leaving £20bn to be found through efficiency savings. I know, from my time in Government, that this is not enough.
And to put this in context, France and Germany spend about a third more on healthcare compared to the UK.
And then there's social care. It isn't often in the spotlight. It doesn't get a section in the opening ceremony of the Olympics, and it doesn't get a national campaign about how much it's loved.
And it certainly doesn't get the constant stream of politicians trying to outdo each other with how much they support it.
But this is care and support for many incredibly vulnerable people. Families facing the struggle of caring for a loved one with dementia, frail old people living alone totally dependent on carers coming to wash them, to dress them, to feed them. This isn't glamorous work but it's vital work. It's the very hallmark of a civilised society. It's in the shadow of the NHS, yet couldn't be more important.
But already the Tories have cut funding for local government again. We're looking at a shortfall of funding of up to £5bn by 2020 - with nothing promised by the Tories to meet it. The consequences for many highly vulnerable people could be disastrous.
Now you might be tempted to think that this is a problem we can delay dealing with - provided we stump up enough cash by 2020. But the problem is here and now. The impact is already being felt.
NHS Trusts are heading for a £2bn deficit by the end of this financial year - and the position is deteriorating rapidly. The number waiting for treatment now exceeds 3 million.
Key waiting times for cancer are increasingly breached. That means delayed diagnosis and a direct impact on patients' chances of survival.
And in social care, we are living on borrowed time. Recently I met with a care at home provider in Norfolk - highly regarded. They cared for my mother until she died last year. They will not seek to renew their contract with the county council next time.
They can't maintain quality standards with the money that's available. These decisions are being made across the country. So we will see a growing divide. Great care for those who can afford it. Corners cut, rushed visits or nothing at all for the rest.
And I've been in the department. I have seen the books and I am deeply concerned. If we carry on regardless, the system will crash.
This is not the time for long grass. This is the time for action.
MY PLAN
During the election I proposed a non-partisan commission to come up with a new settlement for the NHS and care. I wanted all parties to commit to it - to bury our differences, to act in the national interest. To do it straight away. And to keep to a tight timescale.
Health and care is so important. We must not let party politics get in the way of what is the right thing to do. I argued for the same approach on care before the 2010 election. I will keep making this case. I will not give up until this case is won.
I wanted to involve people in communities across our country. And, in our debate on Newsnight during the election, both Jeremy Hunt and Andy Burnham agreed.
But nothing has happened. If they won't do it, we will.
So today, I am starting a national conversation. We have to talk about the emerging crisis in care.
I will travel the country meeting with people, patients, carers, local authorities, charities, health leaders, doctors and nurses, public, private and voluntary sector. We will invite contributions from think tanks, from academics and from trade unions.
We will confront both the need for more resources AND for change.
I am very interested in the idea of a dedicated NHS and care contribution - separating it out from the rest of taxation, clearly identified on your pay slip. And I am really interested in the idea of the right for local areas to raise additional funds for the NHS and care if they choose. Why can't my county of Norfolk decide to spend more on vital services for older people, to improve cancer services or for mental health if it chooses.
The Tories have started to devolve responsibility for managing budgets but they keep control of the purse strings.
Our vision should go beyond that - giving power to raise part of the funds - if the local community supports it.
I will consult fully inside and outside the party.
CHANGE
But we can also make the system much more efficient and we can improve care. First, we can take advantage of new technology.
Let me take you back in time. Do you remember those things called fax machines? They were a part of our lives many years ago. Well they are alive and kicking in the NHS. Every day faxes fly around the system. The NHS is stuck in a time warp. Still paying the price for the most ridiculous, grandiose 'National Programme for IT' costing billions but achieving little. One of the legacies of the last Labour Government which also gave us PFI - mortgaging the future of the NHS to the tune of over £80bn.
So we need an upfront fund to link up the GP practice with the local hospital, the ambulance service and, first and foremost, the patient, giving them the right to control their medical records.
Apps now enable people to look after their own health and fitness more effectively. Technology helps people to stay independent with close monitoring of their condition. An App developed by a constituent is helping to get people out of hospital and back home more quickly. They take a tablet home with them and report back on their condition.
Second, as Joan so eloquently argued on Sunday, we need a fundamental shift from a sickness service to a health service. A focus on preventing disease. On stopping the deterioration of health, helping people to manage their conditions better. We know this can have a massive impact on wellbeing - and save large sums of money.
When I visited South Tyneside - one of the Integrated Care Pioneer areas - a programme I established to encourage local areas to do things differently - I was thrilled to hear about the focus on helping people locally to self-care, to take control and responsibility for their health. Local authority and NHS working together with local people.
Third, the NHS can't do everything on its own. As we face a doubling of the numbers of us living to the age of 85 by 2030, the goodwill, kindness and decency of people in communities will be critical.
Beveridge was ahead of his time. He saw the trends way back in the 1950s. He identified the challenge of an ageing population, of loneliness and neglect.
He urged voluntary societies to develop home-visiting and home-help services.
He pressed the NHS to release expensive hospital beds by making better provision for supporting people in the community. Sounds familiar?
But the challenge is vastly greater now than it was then. In another pioneer area, Cornwall, local GPs work alongside volunteers, combatting loneliness, getting people out of their homes, giving them a reason to live.
This is the model for the future. It's not rocket science but as happiness increases, mental and physical health improves, dependency declines. Admissions to hospital go down significantly.
Liberal Democrats must then make the case for change, and to demonstrate the importance of confronting inefficiency, to come up with new ways of delivering better care, to put people in charge - both people who work in the NHS through applying the Liberal principles of mutualism AND people who use the NHS, by giving them much more control over use of resources available for their care.
We should promote the idea of integrated care organisations, ending the dreadful silo culture which afflicts much of the NHS and care.
MENTAL HEALTH
When I look back at my time in Government, I am most proud of the way our party put metal health on the map.
As you know, it's an issue very important to me and my family. And I know, our work has made a difference.
We achieved a lot:
Halving the number of people in mental health crisis who end up in police cells.
Achieving the first ever standards of mental health crisis care in the Crisis Care Concordat - changing the way people are treated in every community across the country.
We initiated a world leading service to divert people away from prison. It is surely a scandal of our time that so many people suffering mental ill health or who have a learning disability or autism end up prison because of their condition.
We set a zero suicide ambition - challenging the NHS to focus on saving every life. Too many people who are in touch with services lose their lives. This should be what the NHS calls 'a never event'.
We trebled the numbers getting access to psychological therapy - to just short of a million this year.
We introduced a pioneering scheme to get the top graduates into mental health social work.
We developed a blueprint for modernisation of children and young people's mental health services - and secured the funding - £1.25bn - in the budget to implement it.
And we introduced the first ever max waiting time standards in mental health - so that, for the first time, there is a recognition that those suffering mental ill health should have exactly the same right as anyone else to access treatment on a timely basis. But it's still not enough.
I will make it my personal mission to keep fighting until EVERY person suffering mental ill health has a RIGHT to get treatment on time.
As the system struggles to meet strict waiting targets for physical health, mental health is still losing out.
And just consider this. Can you imagine, someone with cancer, very ill, needing admission to hospital but then taken 200 miles from home to find a bed? No. It would never be tolerated.
But it happens if you have acute mental ill health - every week of the year.
When I asked for the data, I was told that there was none. I found out what was happening as a result of campaign organisations doing Freedom of Information requests.
So I demanded that we collect data - and publish it - so that we can see which organisations are responsible. And I proposed that we set an objective of eradicating this practice completely within a year. And then time ran out and I left the Department.
So my challenge now to the Government is: make good on this plan. End it. It's outrageous. It has no place in a civilised society.
And our mission must be very simple: Equality. Nothing more, nothing less. We must end the historic injustice suffered by those with mental ill health.
Just think about it. A publicly funded service which discriminates against one group of people in terms of access to care and treatment.
It's scandalous. And it's stupid. Mental ill health costs the country over £70bn a year in lost productivity, benefits and human misery. We can do so much better.
I didn't go into politics for the cash. I didn't do it for the status. I had no interest in ministerial office for the sake of it. And I certainly didn't choose the Liberal Democrats out of a sense of ruthless ambition. Like the rest of you, I do it to make a difference.
We hold our heads high for what we achieved. This party, the party of Beveridge, is the party which will never stop fighting to build a better health service for all.
That is my commitment. That is our commitment. And nothing is more important.