Liberal Democrats leader Tim Farron has launched a scathing attack on Prime Minister Theresa May, blaming her for damaging UK business if she fails to keep Britain in the single market following the Brexit negotiations.
Farron was speaking at his party's spring conference speech in York, where he began by laying into May's lack of "fight" in maintaining existing trade agreements with Europe.
"The Conservative Party has been taken over by its own version of Momentum. May's Momentum," he said.
"Theresa May is taking British businesses for granted because she thinks they have nowhere else to go. She could have fought to keep us in the single market if she wanted to. She has chosen not to.
"She is to blame for every job lost, every shop closed, every company downsized and every factory relocated."
Farron lamented the "protectionism, nationalism and vandalism" of British businesses, after it was "sold a free market, pro-business party".
"Business should drop the Conservative Party like a hot brick. They should do it publicly and they should do it now.
"There is only one party in British politics right now fighting to keep you in the world's biggest marketplace – who wants to encourage an economy built on dynamism, innovation and opportunism.
"Who believes in a genuinely free market; who wants challengers, ideas, innovation and who wants a liberal economy. That party is the Liberal Democrats."
He attempted to spark his supporters at the conference into action by convincing them Conservatives are "now supporters of a government that is as anti-business as Jeremy Corbyn" and are "now the cheerleaders of a government that is as anti-refugees as Nigel Farage".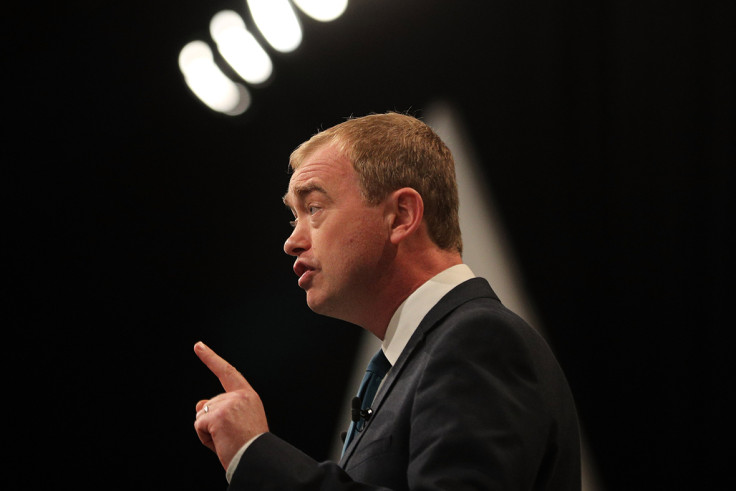 Farron also criticised the Leave campaign and having "fuelled xenophobia, chauvinism and nationalism" in the UK.
The Lib Dems have been lobbying to keep Britain in the single market after a bill was passed in the House of Commons that cleared the UK to trigger Article 50 and leave the EU.
They have previously called for a second referendum on Brexit after the vote to leave narrowly won by 51.9%-48.1%.
Currently, the Liberal Democrats have nine MPs in the British parliament. Before the 2015 general election, the party held 57.